CASE STUDY: Fullers Landscaping Gains an Advantage on Martha's Vineyard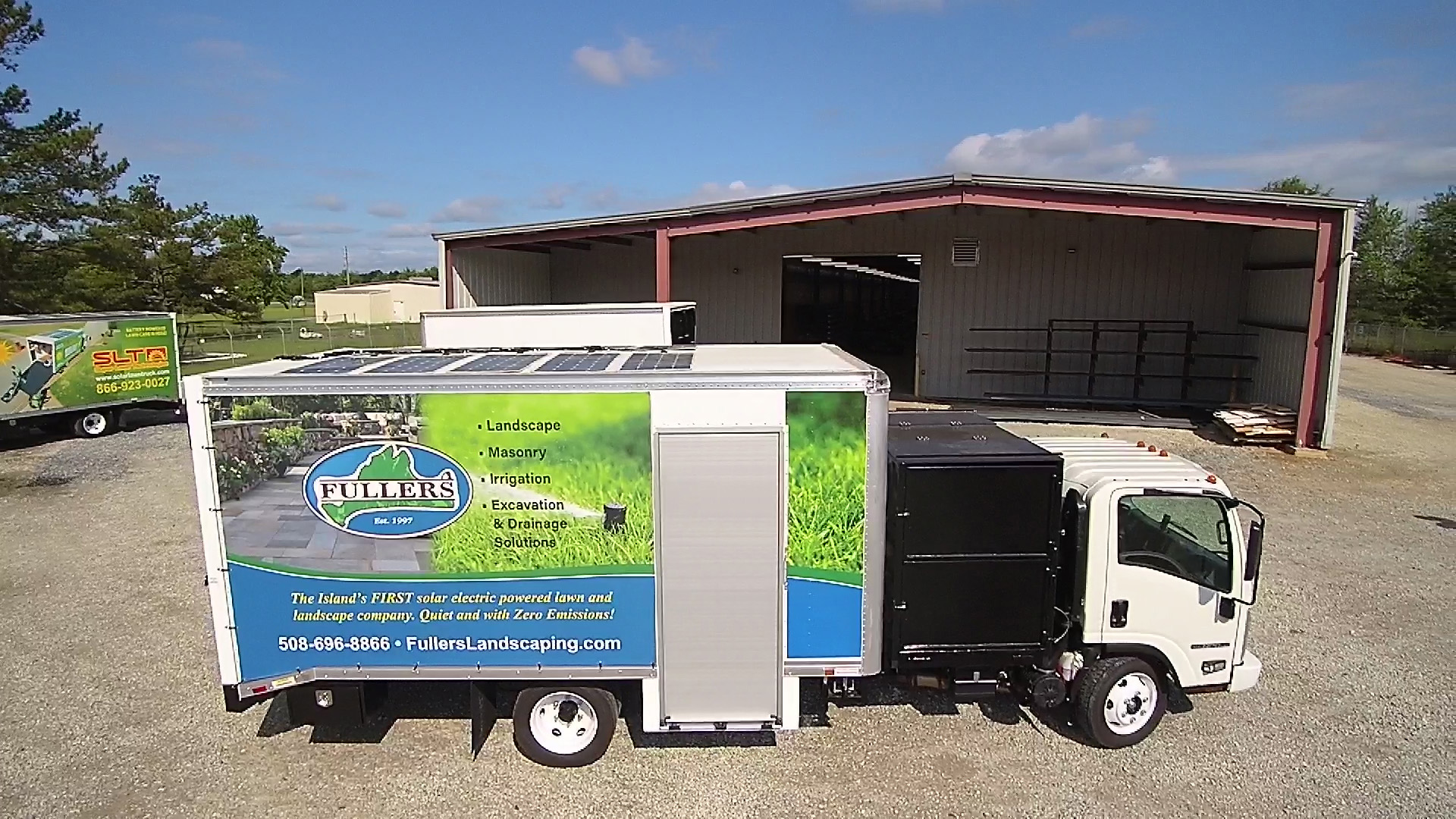 Founded in 1997, Fullers Landscaping provides design, installation and maintenance services to a variety of customers on Martha's Vineyard. It's a very tight-knit, environmentally conscious community. It's also a very competitive market for landscape contractors. Jesse Fuller, company owner, looked to the Solar Lawn Truck for a competitive edge in 2019.
With one season now under his belt, Fuller says he has gotten that edge.
The Solar Lawn Truck comes equipped with a full arsenal of Greenworks Commercial battery-powered lawn equipment. As a result, Fuller has been promoting his company as the only solar electric-powered landscape company on Martha's Vineyard.
"We put that messaging in all of our marketing this year," Fuller says. "As word got out, more and more people were stopping me to ask if we had that new solar truck they'd been hearing about."
As Fuller points out, the customers he serves on Martha's Vineyard do not like to be outdone by their neighbors. They want the greenest lawn around. They also respond well to environmental awareness — and innovation.
"A lot of people didn't even realize this kind of technology was available for the professional landscaping industry," Fuller says. "I mean, they saw battery power on consumer-type tools at the hardware store, but didn't realize there was equipment out there that would allow a landscaping crew to completely run on battery. With Greenworks Commercial, there is. And the Solar Lawn Truck blows their mind. They see how it is possible for a professional to work all day long and not run out of power."
Fuller says he would not have had the confidence to switch to battery power had it not been for the Solar Lawn Truck.
Fuller has a friend who is also in the landscaping business. That friend tried making the switch to solar himself. He bought a tow-behind enclosed trailer and installed a solar panel on the top. "He just kind of put something together and ended up spending a lot of time troubleshooting issues as he went along," Fuller says. "I'm all about trying to lighten my stress load and be more efficient. A plug-and-play system like the Solar Lawn Truck is a great investment from that standpoint alone."
How have employees responded?
All in all, Fuller says his employees have been happy about the switch to battery equipment. The only negative feedback Fuller has received relates to the backpack blowers. "They don't seem to have quite as much power as the gas-powered blowers my employees were used to running," Fuller relates.
That said, Fuller's employees have come to realize that the Greenworks Commercial handheld blower is a great option for the routine sidewalk, patio and driveway cleaning they need to do. "My crew uses the handheld blower 90% of the time now," Fuller says. "It produces 500 cfm, which is right on par with the gas-powered models we have used in the past."
Fuller's Greenworks Commercial equipment has stood up well this season. He did run into some mechanical problems with his pole hedgetrimmer and 25-inch push mower. "Greenworks immediately shipped me replacements. You're going to have issues with equipment from time to time. It's nice to know that a manufacturer is willing to stand behind their products like Greenworks has," Fuller says.
Keeping batteries charged
Fullers Landscaping services a variety of properties. Some have what Fuller refers to as "postage stamp" lawns of 1/4 acre or less, while others have 2-1/2 acres. Unlike the typical subdivision, houses aren't lined up side by side. Thus, a little bit of windshield time is necessary for the Solar Lawn Truck crew to make it through its route. That's why the crew hasn't seen a need for the backpack battery, which provides all-day runtime.
For Fullers Landscaping, the standard 2.5 and 5Ah batteries have provided the power and runtime crews need. The Solar Lawn Truck allows them to recharge one set of batteries while the other set is powering equipment on a property. Drive time between properties provides a little extra time to recharge, which comes in handy when servicing those smaller lawns that only take 15 to 30 minutes.
One thing Jesse Fuller and his employees have learned is that they can turn off the power inverter on the Solar Lawn Truck when parking it and plugging it in at the end of the day. When plugged into shore power, the power inverter becomes unnecessary; the power inverter is simply needed to help convert solar energy into usable AC electricity. "This is good to know," Fuller says. "If anything, this will help extend the life of the inverter because the cooling fan won't be running when it doesn't need to be."
When making a game-changing decision like switching to battery and solar power, there is going to be a bit of a learning curve. Fuller says he has been no exception. For now, Fullers Landscaping is operating just a single Solar Lawn Truck. Fuller's ultimate goal, however, is to completely switch to battery and solar power. The positive results from this first trial season have done nothing but reinforce those intentions.