Solar-Battery Combo Giving Landscapers a Legit 'Green' Option

Beta testers of the Solar Lawn Truck and Greenworks battery-powered equipment say noise, emissions, and operating costs have dipped, but crew performance has not slipped.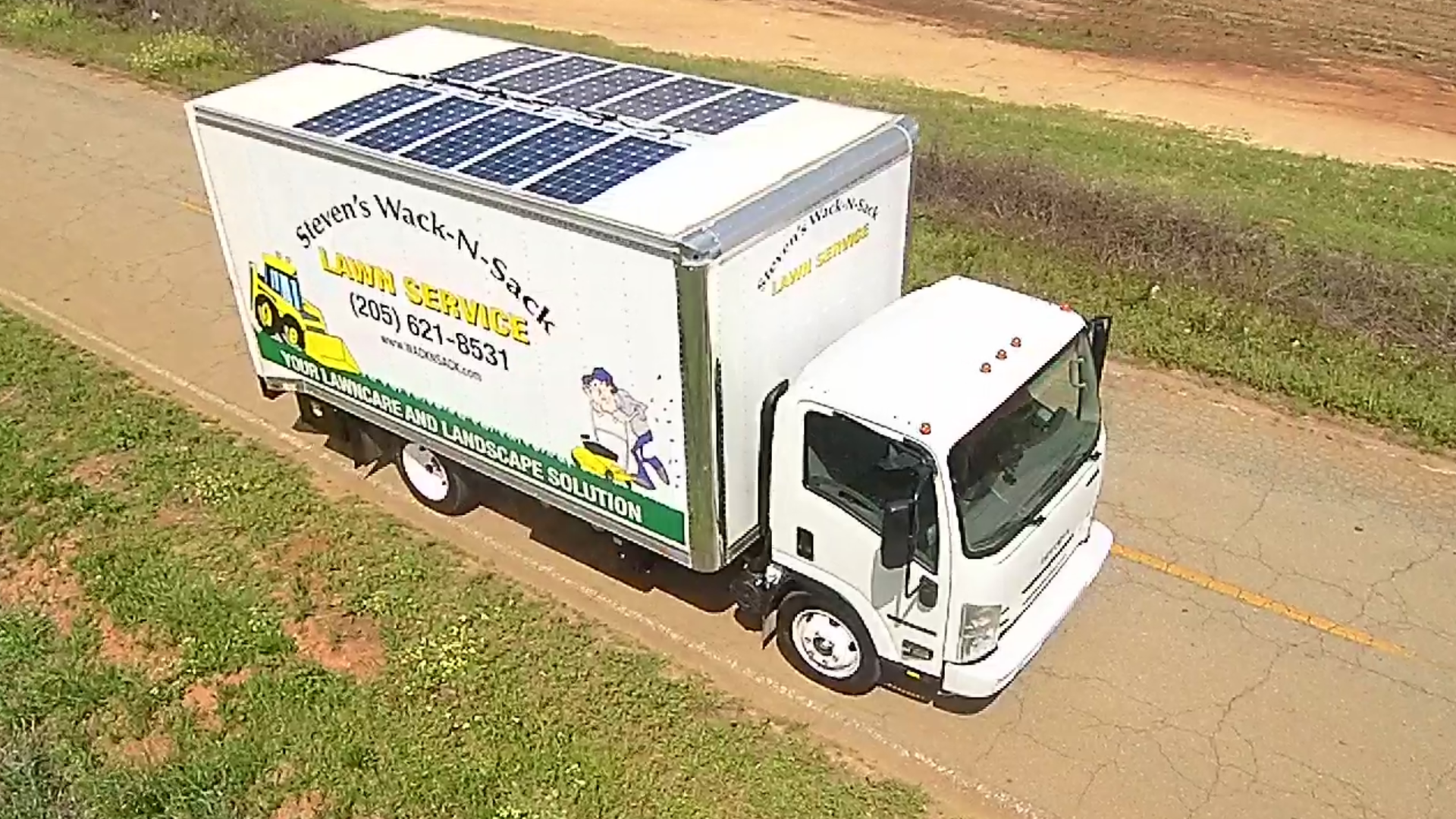 Several landscape companies from around the country have been testing the new Solar Lawn Truck equipped with an array of commercial-grade, battery-powered equipment from Greenworks. Crews initially met the new technologies with a certain degree of skepticism. But after months of use, the positive benefits have been undeniable.
(Download the audio file above by clicking "Download…", then right click the audio bar itself and click "Save Audio As…")
Two obvious benefits of switching from gas to battery are reduced noise and the elimination of emissions. However, the big question mark for professionals has been equipment performance and reliability. After months of testing, landscape contractors have been seeing improvements in cost control as a result of switching to battery-powered equipment:
Dramatic reduction in fuel, additive and oil expense
Elimination of engine carburetor repairs
Elimination of expenses and downtime resulting from faulty pull cords, spark plugs and air filters
Expanded employee base due to lighter equipment that is easier to use and maintain
Improved crew productivity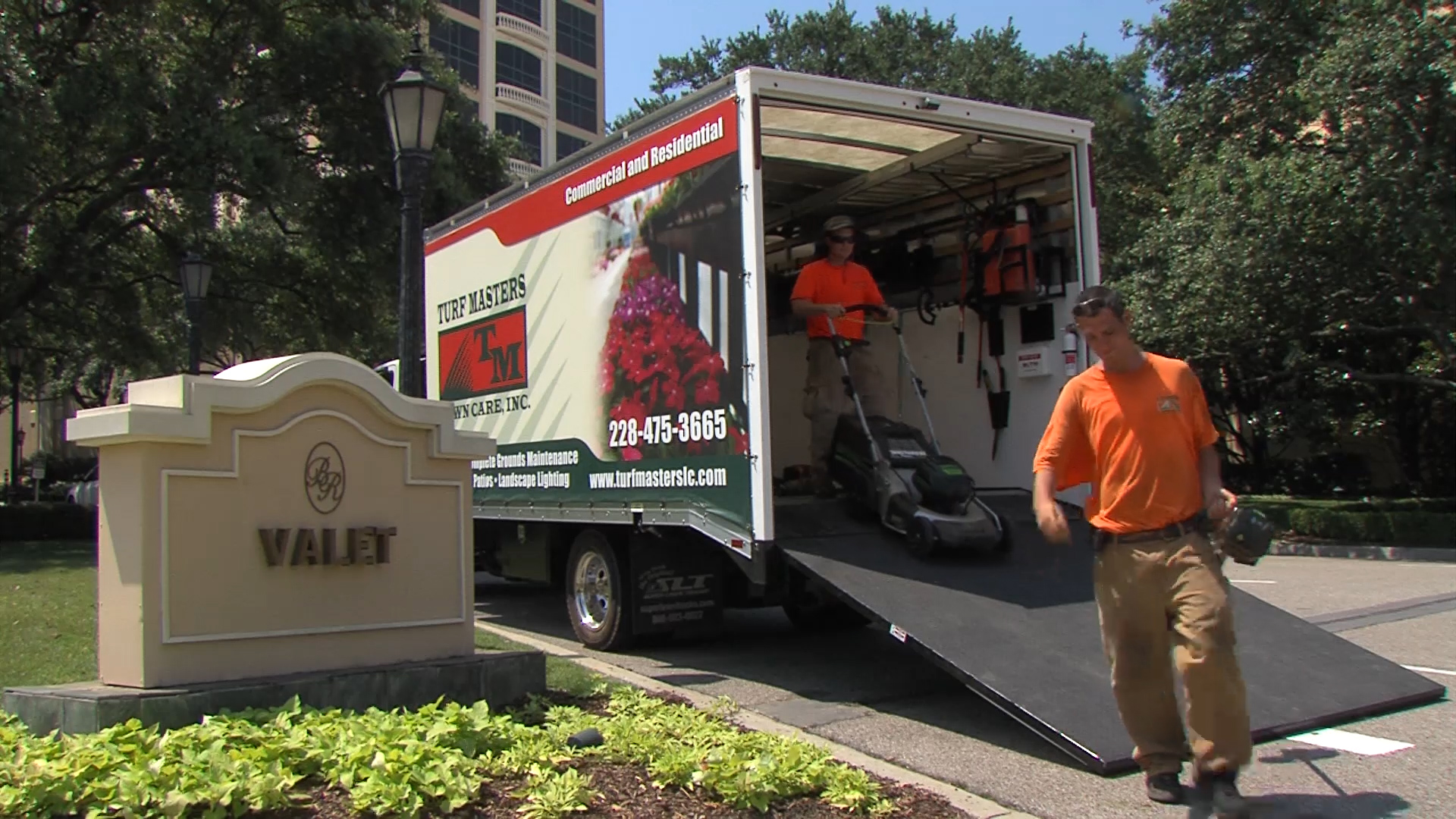 Steve Jordan, owner of Turf Masters Lawn Care in Pascagoula, Miss., is one contractor who has been testing the Solar Lawn Truck. Due to demanding weather conditions, the majority of his lawn maintenance crews exceeded their budgeted man hours in 2018. However, Jordan's battery-powered maintenance crew was several percentage points under its budgeted man hours.
Convenience has been a big motivator behind Jordan's desire to shift toward battery. "When you pull the trigger, we have confidence that the equipment will run perfectly," Jordan says. "That isn't always the case with gas-powered equipment."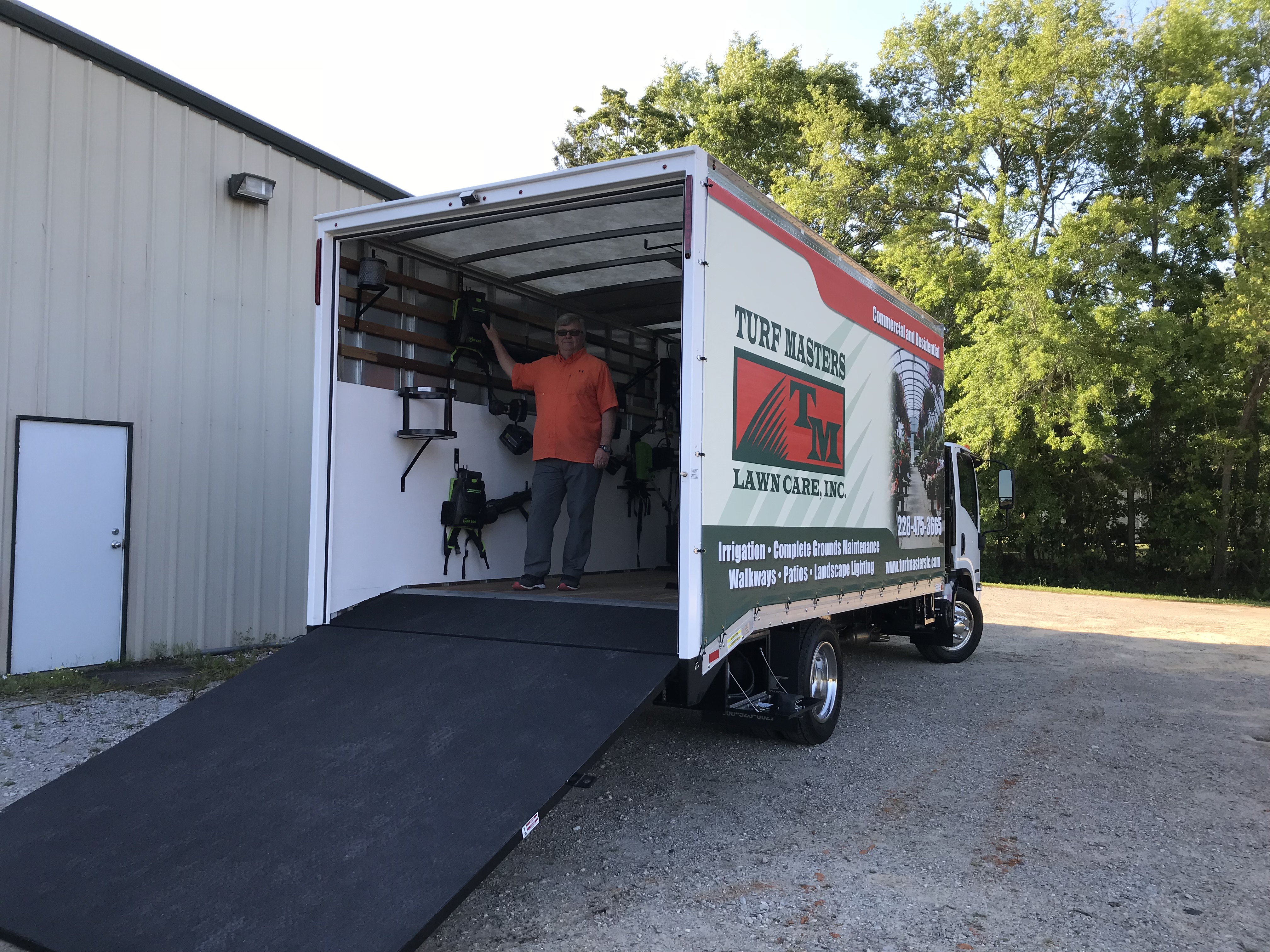 Another reason for switching to battery equipment relates to Jordan's operating costs. It's less expensive to operate battery-powered equipment, and that benefits both Turf Masters and its customers.
"Wages are going up in today's economy, which is a good thing," Jordan says. "The Greenworks battery equipment allows us to lower our operating cost without sacrificing productivity, which helps us keep our pricing stable."
Bruce Cummings, co-owner of Bayview Garden Nurseries in Northfield, N.J., has also been testing the Solar Lawn Truck. "We're in a good market for battery-powered equipment," he says. "We service a lot of residential properties that are smaller and closer together. Our crew typically services 25 to 30 properties in a single day. Battery equipment is lighter, easier to start and generally easier to operate. It helps our crew save time and be more productive."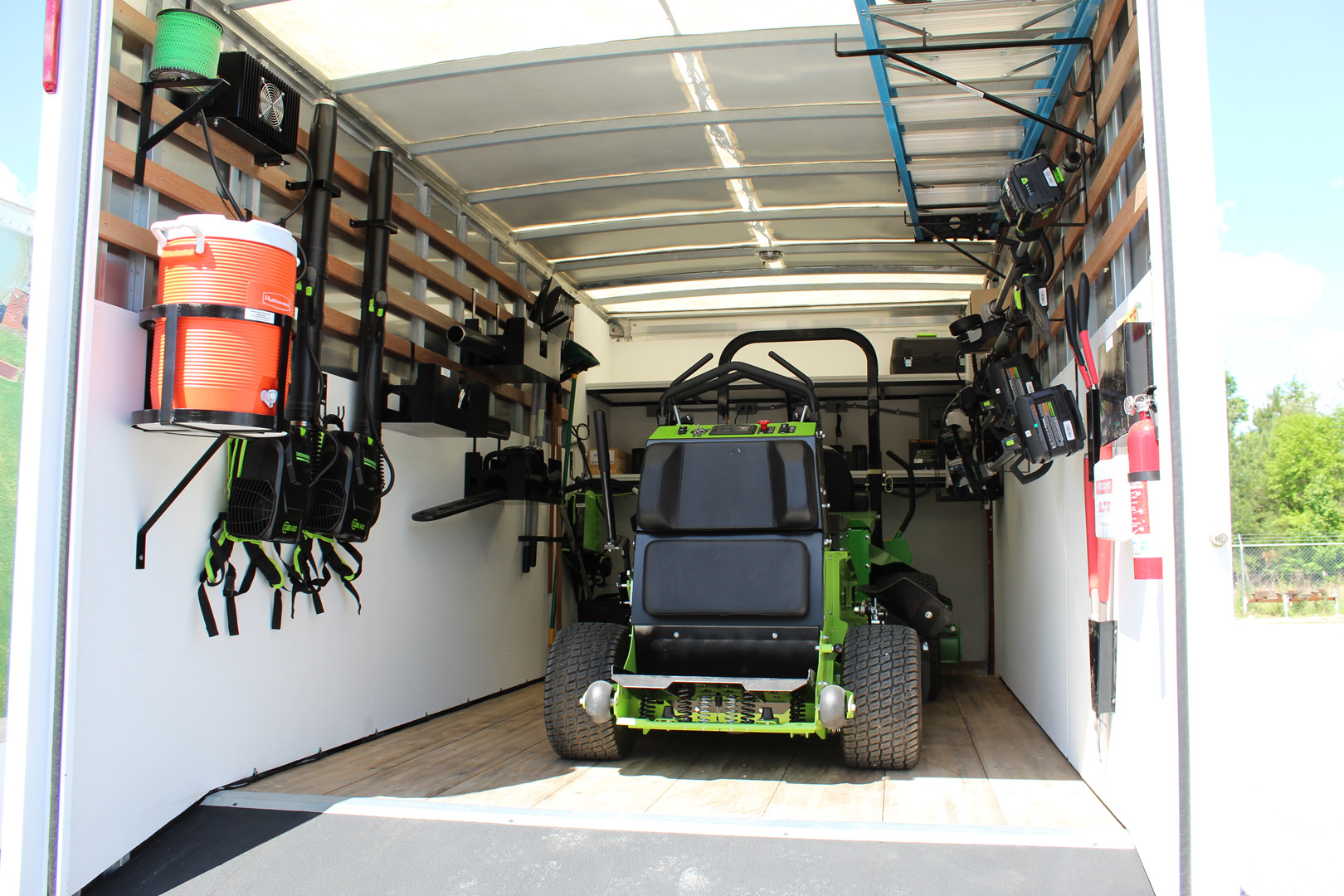 Scott Hord, owner of Hord Landscaping & Lawn Care in Campbellsville, Ky., says his solar-battery crew has also maintained its high level of performance. That said, noise reduction has had the biggest impact on his company.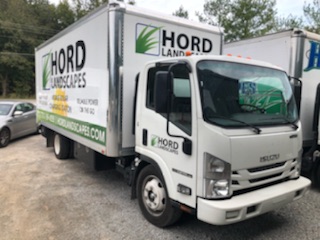 "We service a lot of properties that have noise restrictions," Hord says. "During the early morning hours, as well as when tours were going on, we often had to shut our gas equipment completely off. Now with the Greenworks battery equipment, we can keep right on working. We've been really impressed and our customers really appreciate it."
The lineup of Greenworks battery equipment includes a zero-turn riding mower, stand-on mower, push mower, string trimmers, hedge trimmers, edgers, pole pruners, chainsaws and debris blowers. The equipment is powered by the latest lithium-ion battery technology, providing extended run times and faster recharging times. The equipment itself is manufactured with high-quality, commercial-grade components to withstand the rigors of daily commercial use.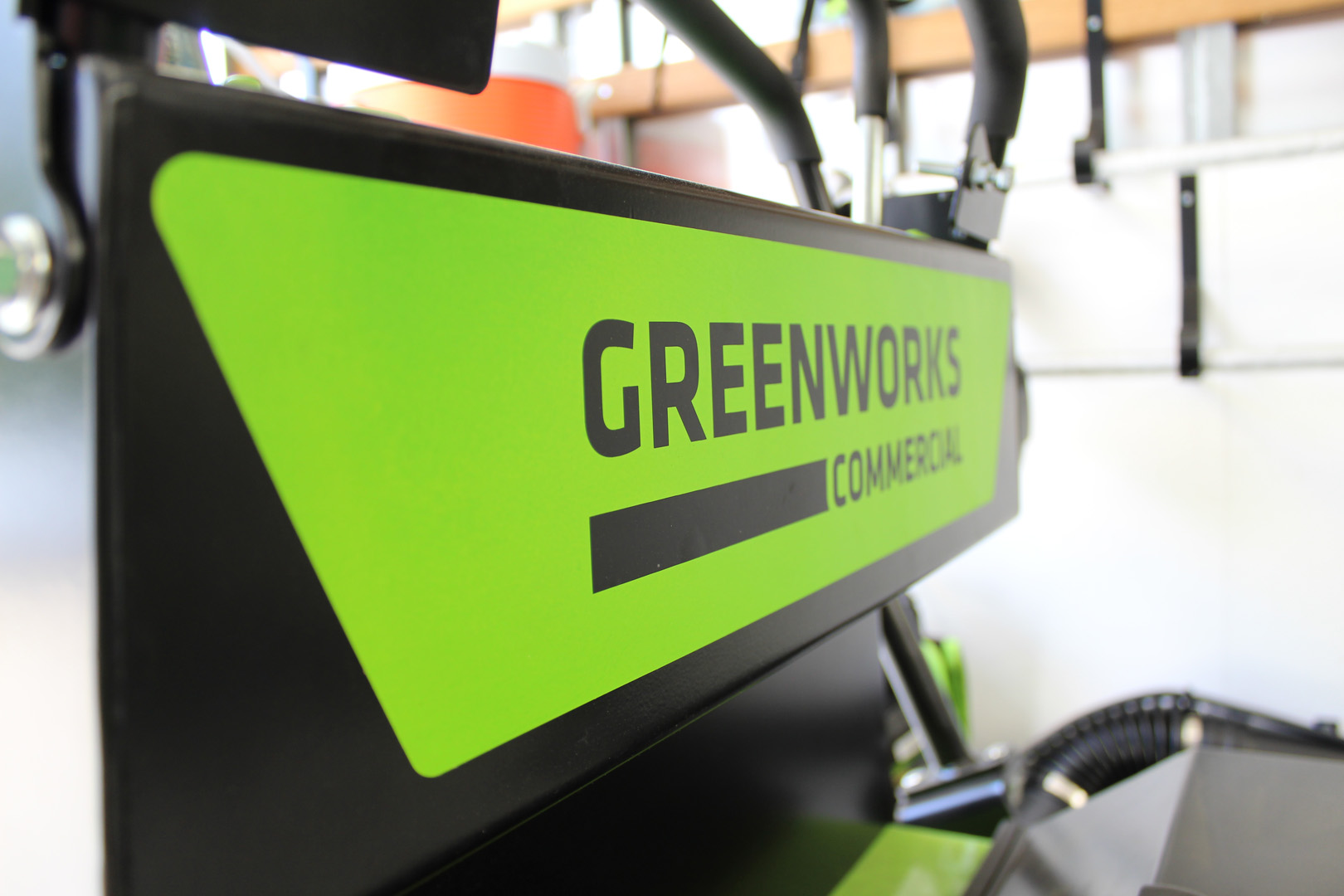 Solar truck improves battery reliability
According to Cummings, one of the biggest challenges in making the switch to battery equipment has to do with battery life. The Solar Lawn Truck gives contractors the ability to charge batteries right on the truck while in the field. Solar panels are affixed to the top of the truck, harnessing the sun's rays to provide the necessary energy to recharge batteries.
"We keep two or three sets of batteries on the Solar Lawn Truck," Cummings says. "That way we can recharge some batteries while others are powering equipment. The way we have the truck set up, we can charge up to six batteries at once. It has been working very well for us."
Hord says the Solar Lawn Truck has also worked well for his crew. "We're in a rural area. We have quite a few larger properties. Some of our properties are also spread out quite a bit so we have some drive time. The Solar Lawn Truck is able to recharge batteries fast enough that we're able to simply swap them out from property to property," Hord says.
More landscapers signing up for solar
The list of companies signing up to become Solar Lawn Truck beta testers continues to grow. The following companies have recently taken delivery of both trucks and the associated Greenworks battery equipment:
Chuck Monico, CM's A Cut Above in Omaha, Neb.
Jesse Fuller, Fullers Landscaping in Edgartown, Mass.
Steven Gladstone, Steven's Wack-N-Sack Lawn Service in Maylene, Ala.
Luke Hanmer, New Outlook Landscaping in Harrisburg, Penn.
Tim Buiten, Tim's Complete Landscape Management in Kent, Wash.
"There are so many advantages to operating battery-powered lawn equipment," Gladstone says. "For one, you don't smell like gasoline at the end of the day. You also don't have to worry about equipment issues like having to replace oil, filters or starter cords. Vapor-locking carburetors have been a big problem for us. Just trying to get equipment started averaged over 10 minutes per property, which is a huge waste of time and money. With battery equipment, you just pull the trigger and go. The savings on gas will also be nice."
"Traditional gas-powered riding mowers, string trimmers and blowers have generated decibel levels on par with a concert," Monico says with respect to the noise factor. "Battery equipment is much quieter. That means less strain on our employees' hearing. Employees will also be able to communicate better on jobsites. That's a big benefit from a safety standpoint."
Fuller says he has been watching battery technology evolve over the past few years. "Battery seems to be the direction the landscaping industry is starting to go. I like to stay at the forefront of innovation, always exploring new and better products and methods. Battery equipment and solar recharging are going to help us stay ahead of the curve, making a big difference in both our company and community on Martha's Vineyard," Fuller says.
Fullers Landscaping services a very tight-knit, environmentally conscious community on Martha's Vineyard. Having served that community for the past 22 years, Fuller and his staff feel an obligation to operate in a more environmentally fashion.
"Our new battery equipment produces roughly half the sound of traditional gas-powered equipment and with zero emissions," Fuller says. "Those are big benefits. This is a progressive community that feels strongly about its environmental impact. We feel exactly the same way."