Enhancing Revenue & Controlling Cost with Battery-Powered Equipment
Professional landscapers here discuss their experiences using battery-powered lawn equipment from Greenworks Commercial. Topics include equipment performance, cost/benefit analysis, and best practices for battery management with the Solar Lawn Truck.
Several professional landscape contractors have been testing Greenworks' commercial-grade, battery-powered lawn equipment for over a year now. The results are in, and they are impressive.
It's easy to see why once you look at the numbers.
Landscape contractors have been seeing great improvements in cost control as a result of switching to battery-powered equipment: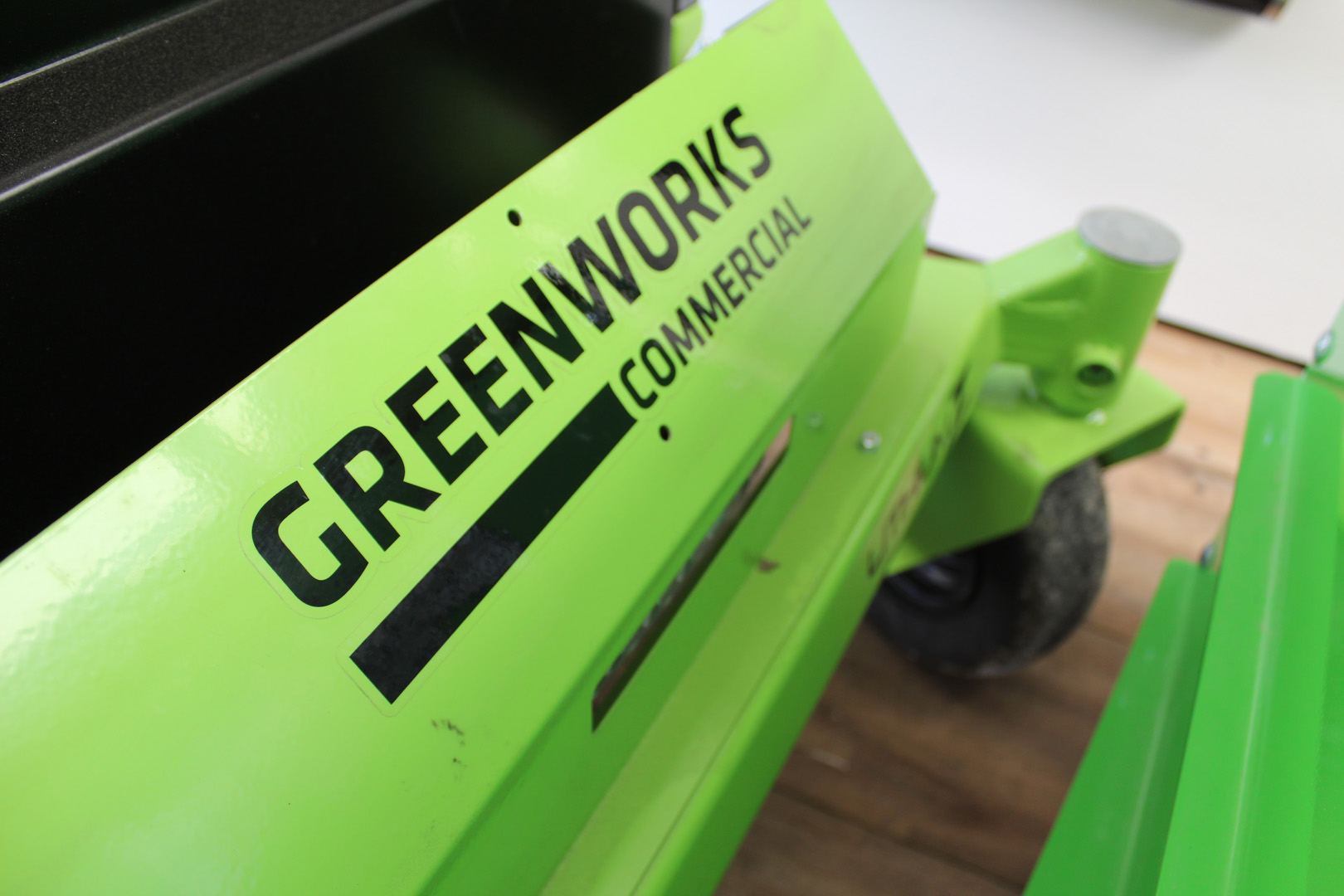 Dramatic reduction in fuel, additive and oil expense

Elimination of engine carburetor repairs

Elimination of expenses and downtime resulting from faulty pull cords, spark plugs and air filters

Expanded employee base due to lighter equipment that is easier to use and maintain

Improved crew productivity
Is battery less expensive than gasoline?
When switching to battery-powered lawn equipment, just the fuel savings alone has been enough to show a solid return on investment for professional landscapers.
Take the example of a string trimmer. The typical operating cost is 63 cents per hour just for gasoline (assuming $2.50/gal and a trimmer burning 0.25 gal per hour). If you operate the trimmer for 500 hours a year, that's over $300 per year just for gasoline.
As for a comparable battery-powered string trimmer from Greenworks, case study data shows that the typical hourly operating cost is around 4 cents. That is based on a Greenworks trimmer that can run for 45 minutes, and requires 0.25 kilowatts to recharge at 11 cents per kilowatt. If you operate that trimmer for 500 hours, it costs around $20 in electricity to keep the battery charged.
Is battery lawn equipment productive?
Yes – case study data shows that landscaping professionals who operate battery-powered equipment can be more productive. For instance, Steve Jordan is the owner of Turf Masters in Mississippi. Due to demanding weather conditions, the majority of his lawn maintenance crews were over budgeted man hours in 2018. However, Jordan's battery-powered maintenance crew was several percentage points under its budgeted man hours. The crew operates Greenworks equipment out of the Solar Lawn Truck.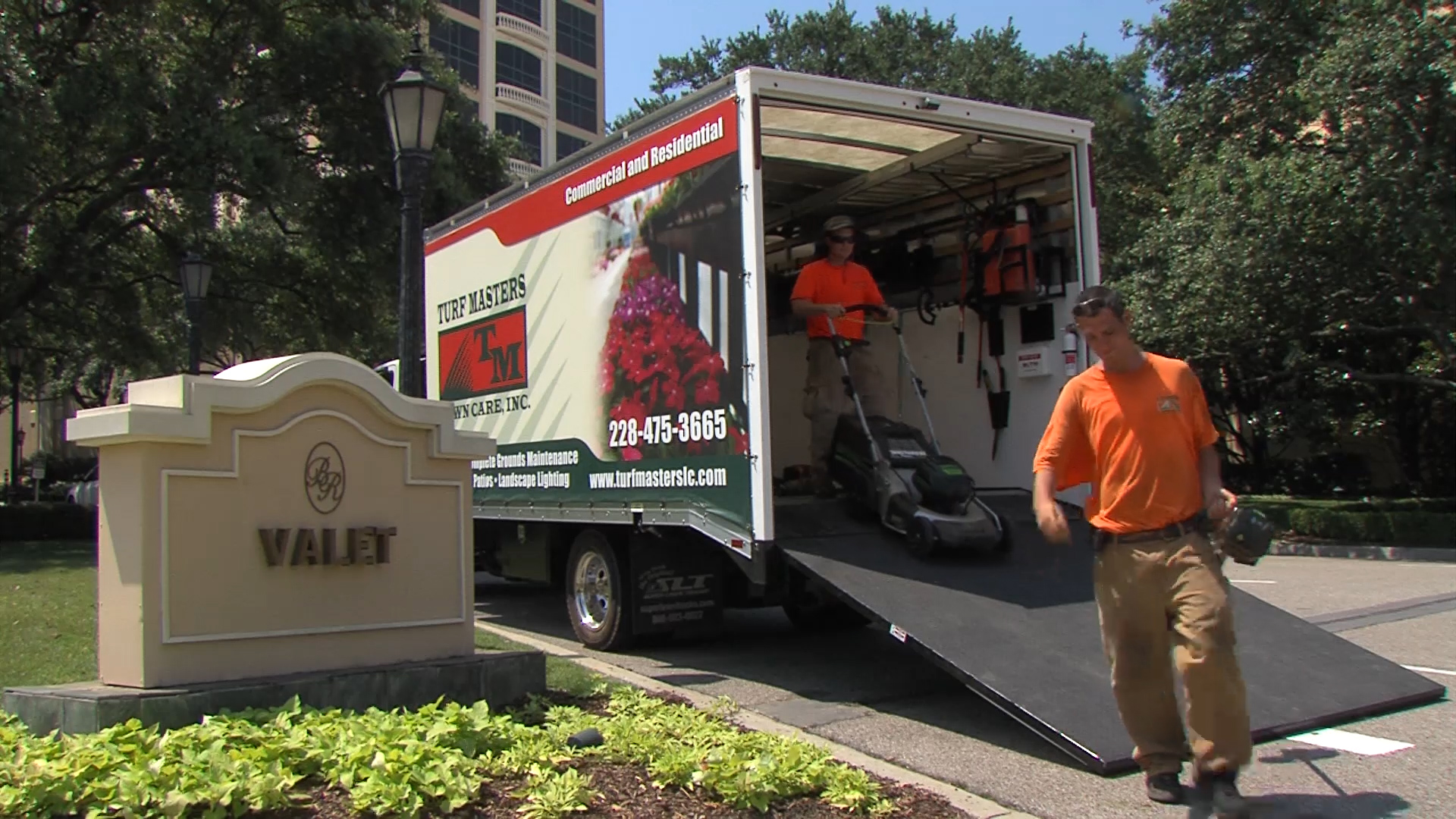 Scott Hord of Hord Landscapes in Kentucky is another contractor who has been testing out the Greenworks equipment and Solar Lawn Truck. He says that when you do a time comparison, charging batteries at night requires much less time and effort than gassing up equipment every morning.
Hord was initially concerned about battery runtime, but hasn't run into any issues. His battery-powered maintenance crew services everything from small residential to large commercial accounts.
Professional landscapers who have been testing Greenworks battery equipment point to the following areas that have helped them increase both productivity and customer satisfaction: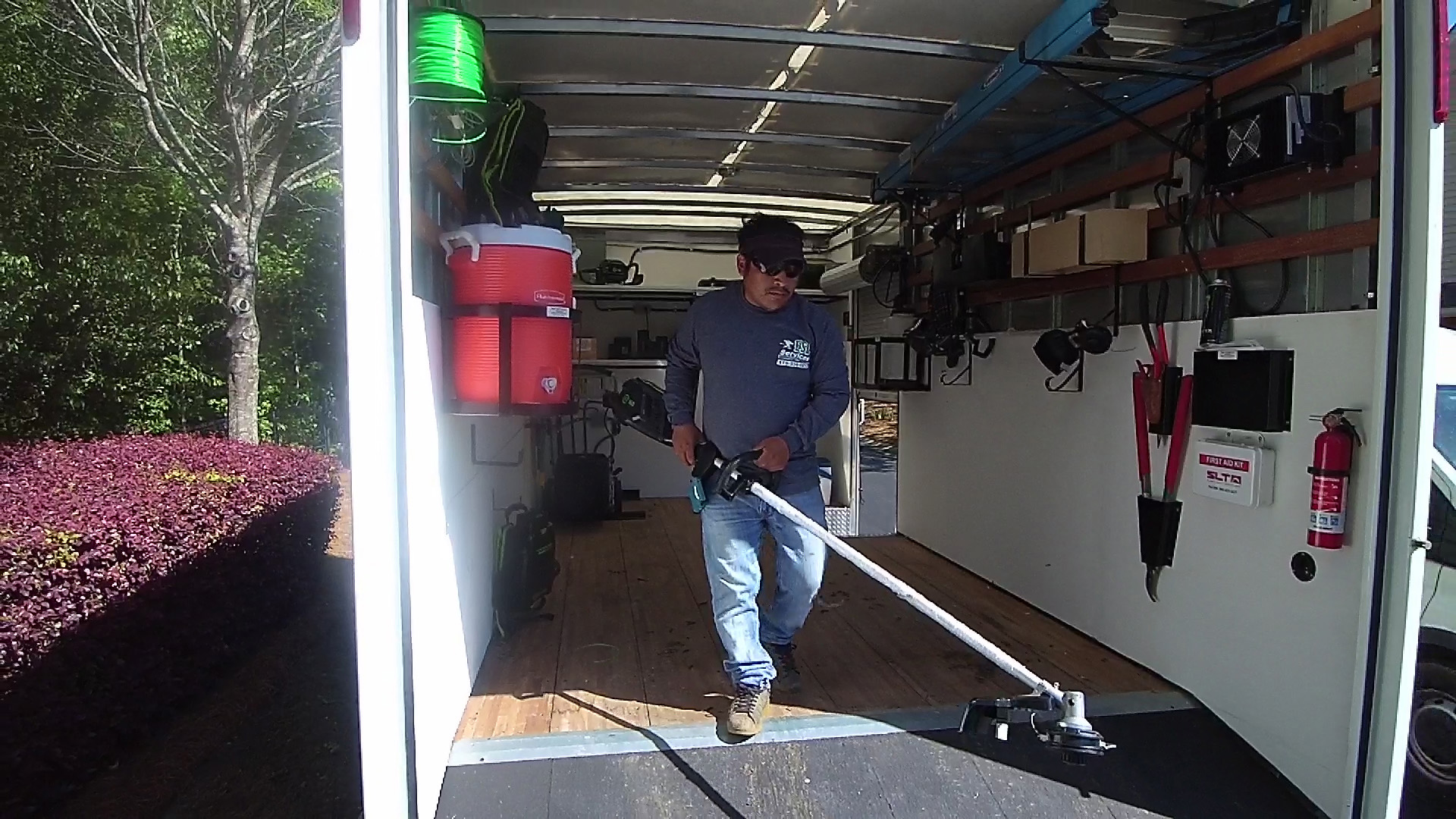 Equipment is lighter
Equipment is quieter
No gas fumes
Employees don't smell like gasoline
Equipment is grab-and-go, resulting in less time from trailer to property
Equipment is easier to operate
Equipment is less likely to fail due to fewer mechanical parts
Unique head design on pole saw makes branch-cutting more efficient
Professional landscapers say that in most cases, enough power and runtime are generated to efficiently tackle a variety of lawn maintenance applications. This is especially true of the Greenworks hedgetrimmer.
Jordan does point out that there may need to be an adoption curve for employees who are used to more powerful, gas-powered equipment. This is especially the case with debris blowers.
Tony Bass, inventor of the Solar Lawn Truck, says that the Greenworks GB 500 handheld blower is ideal for doing routine cleanup work such as blowing off sidewalks and patios. For more demanding tasks such as fall leaf cleanup, Greenworks does offer a couple of more powerful backpack blowers. The GBB 700, for example, generates 690 cfm via two 5-amp-hour batteries. However, Bass questions the power-to-weight trade-off. With two batteries, the GBB 700 weighs 27.5 pounds, a couple pounds heavier than a comparably sized gas-powered backpack blower. Bruce Cummings of Bayview Garden Nurseries in New Jersey says that his crew opted against going to the bigger, yet heavier, backpack blower.
Is battery power reliable?
When switching to battery-powered equipment, the biggest challenge landscaping professionals have had is devising systems for maintaining charged batteries in the field.
Cummings says his crew plugs in at the end of every day, and the batteries are all ready to go the following morning. The two-person crew works 9-10 hours a day, and has never been caught without enough battery power to get through a day. That is largely due to the Solar Lawn Truck, which provides mobile power generation and battery-charging capabilities.
Hord says one challenge has been that, throughout the course of the day, batteries need to be charged more frequently than gas tanks need to be refilled. Bass points out that it is important to place depleted batteries on a charging station as quickly as possible. Then, those batteries need to be fully charged before being placed back into service.
Another best practice is to have two batteries per piece of equipment. That way, one battery is recharging while the other is powering equipment. The identical 45-minute runtime and recharge time help ensure seamless battery exchanges in the field.
This is why the Solar Lawn Truck has proved very effective in residential and light-commercial applications. Crews are on/off properties in relatively short order. The Greenworks battery runtime is typically adequate to get crews from one property to another. Additionally, power and torque are more than adequate for these types of properties, and the reduced noise and lack of fumes are big selling points with these types of customers.
Battery power has also proven effective on more demanding commercial properties. Jordan's crew has not run into any issues with power, torque or runtime. Hord's crew has even had great success on 3- to 4-acre properties.
Is mobile solar power reliable?
The Solar Lawn Truck functions not only as an enclosed, combination landscaping truck/trailer, but also as a mobile power generator. Solar panels affixed to the top of the truck provide the energy needed to charge spare batteries in the field while crews are working.
One thing landscaping professionals have had to consider is overcast days, which limits the power generation of the Solar Lawn Truck. This is why the truck has a battery-monitoring module that shows how many volts are available in the on-board battery bank. Bass says it's important to not allow the bank to repeatedly drop below 50%. A built-in data logger can send email notifications that the battery has reached the 50% point, so crews can be alerted. This strategy maximizes battery storage life for the on-board battery bank.
Jordan says it has been helpful to make one crew member responsible for maintaining charged batteries. This makes is much less likely that a crew will forget to place depleted batteries on a charger.
Bass points out that Greenworks has recently introduced a dual-port charger. This allows users to plug into one outlet, but charge two batteries on that outlet. Once one battery is fully recharged, the second battery starts charging.
First introduced in October 2017, the Solar Lawn Truck is now onto its second iteration. Key improvements found on the Solar Lawn Truck 2.0 include:
1,000-watt solar panel array. Initially 500-watt to keep costs down. Doubling wattage helps generate an additional 1.2 kilowatts of energy per day.

100-amp panel vs. 30-amp panel.

Within the battery charging station, there is now a 50-amp charge cord, so you can plug into 240-volt charger to plug in more batteries and recharge faster. This allows for charging ZTR batter powered mowers. Previously a 15-amp, 120-volt system.

5 power circuits vs. 3 previously
Bass says the net result of these improvements will allow landscaping crews to charge one or two zero-turn mower batteries on-the-go and up to two hours per day. Also, crews could recharge the batteries right on the Solar Lawn truck overnight without having to unload them.
What would professional landscapers like to see improved?
The edger design doesn't allow for maximum use. This may require more frequent blade changes than some gas models.
Up in New Jersey, Cummings has had issues in cold weather. For example, temperatures dropped below 20 degrees F one fall evening. The batteries would not start nor charge the following morning. The crew had to put the batteries in the truck cab to warm them up. Once warmed up, the batteries and equipment ran just fine. A good best practice is to devise a system for storing batteries inside when below freezing temperatures are forecast.
The string trimmer could benefit from more power to handle really thick weeds. Also, when equipped with the 5-amp-hour battery, it weighs a couple pounds more than a comparable gas-powered trimmer. Hord says the main issue is weight distribution. The trimmer is heavier where the battery is. After periods of prolonged use, it can become more difficult to keep the trimmer "floating" on the grass. Jordan agrees with this assessment, but adds that it simply takes some getting used to by the operator.
For more information on how the Solar Lawn Truck and Greenworks battery-powered equipment could benefit your landscaping operation, call us 866-923-0027.