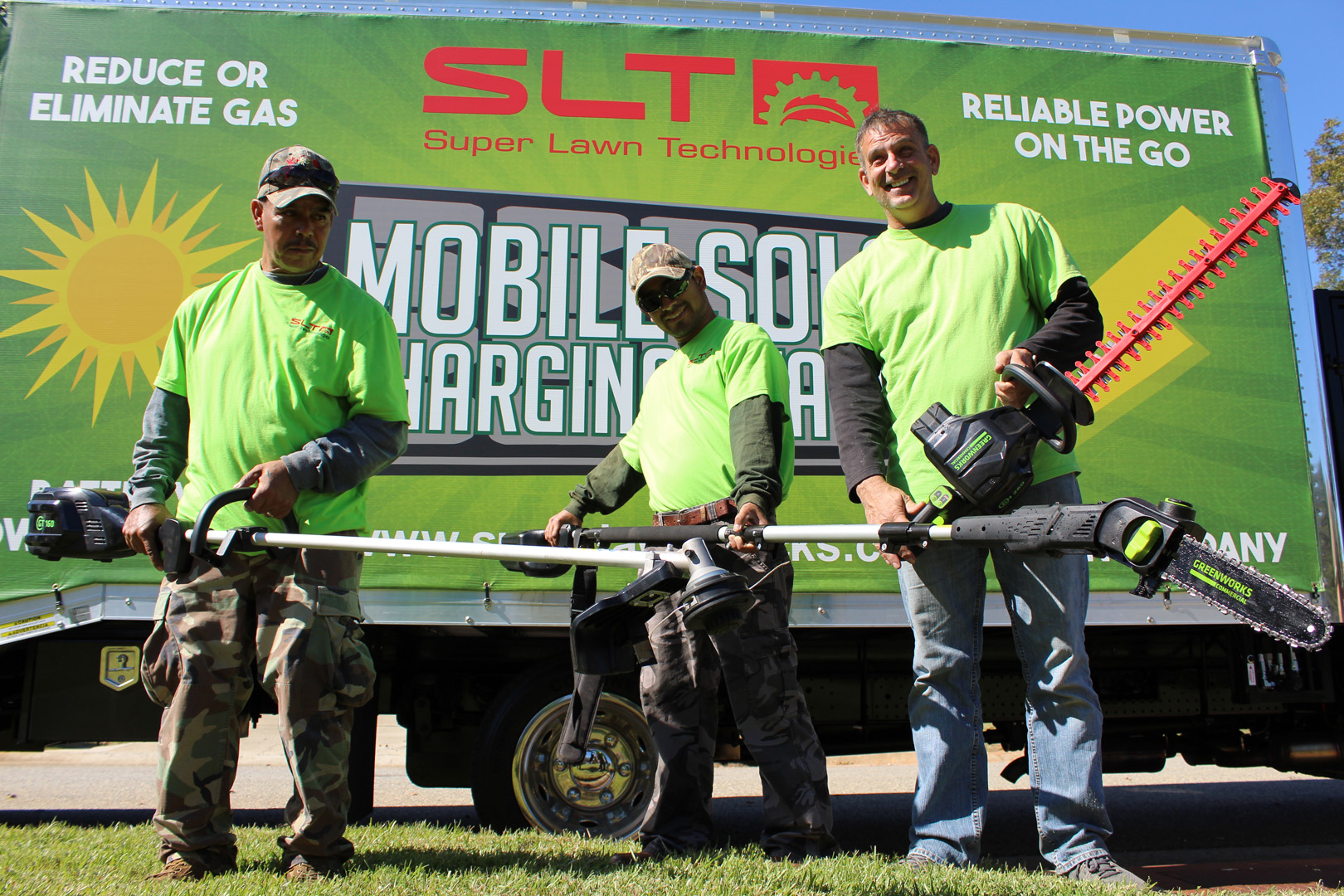 How Professional Landscapers Get Started Using Battery Equipment
By Gregg Wartgow
Landscape companies have been testing the Solar Lawn Truck equipped with Greenworks Commercial battery-powered lawn equipment for well over a year.
Case study data is proving that battery-powered equipment will help landscape crews save time and money — without sacrificing performance. READ THE REPORT
Get started with less upfront investment
Now landscape contractors can begin reaping the benefits of battery power — without having to invest in the complete Solar Lawn Truck/Greenworks package.
Super Lawn Technologies has become an authorized dealer of Greenworks Commercial battery-powered lawn equipment. As a result, Super Lawn Technologies can now sell Greenworks equipment as standalone products.
The Greenworks Commercial lineup includes:
600- and 690-cfm Backpack Blowers
26-inch Hedgetrimmer
20-inch Pole Hedgetrimmer
18-inch Chainsaw
10-inch Pole Pruner with 8- to 12-foot reach
8-inch Stick Edger
16-inch String Trimmer
21- and 25-inch Push Mowers
52- and 60-inch Zero-Turn Mowers
48- and 52-inch Stand-On Mowers
Which battery-powered products should a landscaping professional start with?
Landscape companies have had overwhelming success in completely outfitting crews with battery-powered equipment. However, this "all in" approach is not the best approach for every landscape company.
For the more cautious landscape contractor, hedgetrimmers and chainsaws are a great way to get started using battery-powered equipment. While these tools require a high level of power and performance, they aren't relied upon as heavily as string trimmers, mowers and blowers. Thus, hedgetrimmers and chainsaws allow landscapers to get a more leisurely feel for what battery power can do. This gives landscape companies time to develop the necessary operating systems to make battery power work efficiently. Once those systems are fine-tuned and employees become comfortable with battery power, companies can begin adding more battery-powered equipment to their fleets.
In addition to a hedgetrimmer and chainsaw, Super Lawn Technologies recommends getting started with two 2.5-amp-hour batteries for each tool, along with one dual-port charger. This setup allows the equipment operator to have a battery on each tool, along with two backup batteries on the charger — helping to ensure that they never run out of power while in the field.
Battery-powered equipment costs less
In most cases, Greenworks Commercial battery-powered equipment costs less to purchase than gas-powered equipment. Additionally, the hourly operating cost of Greenworks Commercial equipment is significantly less — at least 40% less and sometimes as much as 300% less.
Let's delve into the numbers …
Purchase price comparison*
Hedgetrimmer
Greenworks GH 260 — 26" blade — $199
Stihl HS 56 — 24" blade — $399.95
Husqvarna HD75S — 29" blade — $499.95
Echo HC-2420 — 24" blade — $499.99
Pole Hedgetrimmer
Greenworks GHX 200 — 20" blade, 45" shaft — $277
Stihl HL 91 K — 24" blade, 30" shaft — $439.95
Husqvarna 525HF3S — 26" blade, 32" shaft — $459.95
Echo SHC-2620 — 21" blade, 51" shaft — $499.99
Chainsaw
Greenworks GS 180 — 18" bar, 35cc (equivalent) — $259
Husqvarna 439 — 16" bar, 35cc — $399.95
Echo CS-501P — 18-20" bar, 50cc — $459.99
Stihl MS 261 — 16-20" bar, 50cc — $589.95
Pole Saw
Greenworks GS 100 — 10" bar, 8-12' reach — $279
Echo PPF-225 — 10" bar, 7'9" reach — $399.99
Husqvarna 525P4S — 12" bar, 7'9" reach — $499.95
Stihl HT 103 — 12" bar, 7'6" to 11'6" reach — $599.95
As you can see above, the up-front cost for the Greenworks Commercial tools are priced much lower than comparable gas-powered commercial tools. The lower up-front cost is just the first way you save money buying battery-powered lawn equipment.
If you've heard that battery-powered lawn equipment costs MORE than gas-powered lawn equipment, that's not accurate when we look at the Greenworks Commercial line of hand-held power equipment.
Operating cost comparison**
Consider the costs of operating a battery-powered Greenworks Commercial tool:
Two 2.5-amp-hour batteries @ $162 each, each providing roughly 250 hours of use = 65 cents per hour
Dual-port charger @ $72 providing 1,500 hours of use = 5 cents per hour
Add electricity costs at .04 per operating hour (based on .11 cents/kilowatt)
TOTAL OPERATING COST: 74 cents per hour
Now consider the cost to operate gas-powered equipment:
Gasoline at national average of $2.80 per gallon (summer 2019)
Two-cycle oil at average of $2 per gallon of gas
Total — $4.80 per gallon
Average burn rate of 1/4-gallon per hour
TOTAL OPERATING COST: $1.20 per hour
As you can see, Greenworks Commercial battery-powered equipment costs roughly 40% (46 cents) less to operate per hour. And that isn't even factoring in other gas-engine operating costs such as pull cords, filters, fuel additives and carburetor maintenance. Battery equipment can save you money!
This case study with a Kentucky based lawn maintenance business helps you understand further benefits of going with battery-powered lawn equipment.
Are you ready to start making the shift to battery-powered equipment?
Greenworks Commercial equipment is now available for individual purchase from Super Lawn Technologies.
All products can be shipped nationwide via common carrier or parcel delivery.
START SHOPPING
If you're interested in "going all in" with the Solar Lawn Truck/Greenworks package, learn more about our 2-WEEK TEST DRIVE
*Comparably sized, professional-grade models were selected for the purchase price comparison. Greenworks Commercial pricing depicts retail pricing offered by Super Lawn Technologies. Stihl, Echo and Husqvarna pricing depicts manufacturer suggested retail pricing in summer 2019.
**Battery cost comparison is based on 500 recharges of the battery with electricity cost of .11 cents per kilowatt. Batteries and chargers that are well maintained may last much longer, lowering the reported operating cost. The use of Solar Energy charging will lower the operating costs of battery equipment even further.