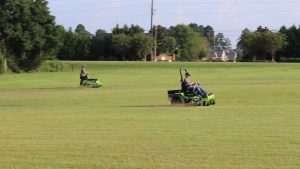 Since 2016, the team at Super Lawn Technologies has been testing and teaching landscape contractors about the option of choosing battery-powered equipment in professional lawn maintenance operations.
The data and feedback they have collected give the lawn care industry a unique perspective on battery-powered equipment. It's a fact: Battery-powered lawn equipment IS a REAL option to the tradition of buying and using gas-powered lawn equipment.
Their beta-test contractors operating crews with 100% battery-powered lawn equipment are proving that battery-powered lawn equipment can help save time and money … without sacrificing performance.
That said, battery-powered equipment is NOT for every lawn maintenance company today. If you're a landscape contractor who is thinking about making the switch to battery power, consider the following scenarios where you might want to think twice.
Too much to mow. As of this writing, there isn't enough battery storage capacity to mow more than 12 acres of grass per day. While that might get some contractors through an entire workday, some might only make it to mid-afternoon. This 12-acre rule assumes you place a 60" rider PLUS 48" stand-on mower on a 3-person crew.
Battery storage and recharge speed continue to improve, but today you will need 8-10 hours to recharge a fully depleted battery pack on these large mowers. Of course, if you work an 8- to 10-hour shift, overnight charging works great and prevents you from buying gasoline and stopping at the fuel station.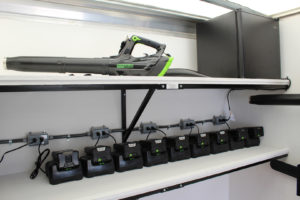 Heavy lawn growth. Contractors report that battery-powered mowers perform well in normal situations like mowing on a weekly rotation. However, some models of battery mowers can get somewhat bogged down in extremely tall, thick or wet grass. If you have properties on a 14-day mowing schedule, for instance, this could present a problem. Similarly, some battery-powered string trimmers can sometimes struggle in really heavy growth. Contractors with weekly mowing routes will enjoy battery-powered mowing.
Working in the rain. If you have a habit of working in heavy rain, battery power won't be a good option. Since the motor is electrically driven, equipment manufacturers advise against working in really wet conditions. While battery equipment is rain-resistant, it is NOT waterproof.
Big leaf cleanups. We have powerful, highly productive battery-powered backpack blowers that can easily handle routine sidewalk clearing-type applications. However, if you plan on blowing leaves all day long during the fall, battery might not be the most efficient option. When you compare power-to-weight ratio and runtime, a gas-powered blower is going to handle leaf clean-up much better.
Large crews. Our beta-test companies have proven that we can operate battery-powered equipment with 3 people a full 8-hour shift and never run out of battery power.  However, there is a careful balance of buying extra batteries PLUS utilizing on-the-go charging to recharge batteries while you work. (The report is found here.) If you have more than three people on a crew, battery-powered equipment isn't as appealing. You'll need more batteries and charging stations, which adds both complexity and cost.
You are too disorganized. Landscape companies that have successfully made the transition to battery power have good operating systems. They have developed policies and procedures to ensure that fully charged batteries are available when needed. If you or your employees are overly prone to losing tools or forgetting to do things like putting batteries on a charger, battery power might not be for you.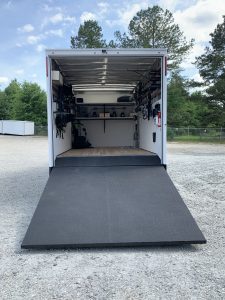 You are not a good "change" leader. Let's be honest: Most people are resistant to change. The typical landscaping worker is used to gasoline. The loud engine and stench of gas fumes let them know the equipment is working. With battery-powered equipment, noise is reduced considerably. There are no fumes. Battery power will take some getting used to. Successful landscape contractors have helped educate employees on the benefits of switching to battery, while also helping them get comfortable in making the switch.
No access to power outlets. With battery-powered equipment, you're changing fuel from gasoline to electricity. The good news is that electricity costs pennies compared to the cost of gasoline. So you'll need access to power where you park your truck, as well as while working in the field.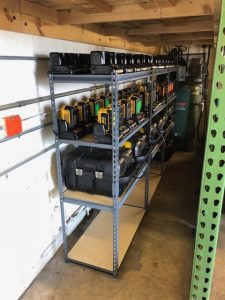 Example of a battery charging station in a shop
If you are unable to park your truck near a 120- or 240-volt power outlet for overnight charging, battery power might not be a good option. A game changing tool called the Solar Lawn Truck can help solve that problem by using sun rays to generate the necessary recharging power right on the truck.
Engine maintenance is fun. If you happen to be one of the few landscape contractors who enjoys tinkering with small engines, battery-powered equipment might not be for you. With battery equipment, there are no engines, carburetors, spark plugs, pull cords, filters, gasoline or oil. There is essentially zero maintenance that needs to be performed.
You are using the wrong equipment. The variety of battery-powered lawn equipment on the market has exploded over the past five years. More choices create more opportunity to make the wrong purchasing decision. Most of the equipment on the market is not designed for professional use. If you can't resist buying the cheapest product you can find, battery power is not for you. You can gain access to the $500,000 plus research study we have underway right here.
Technology is making battery-powered lawn equipment a more viable option
Today's battery-powered lawn equipment is powered by lithium-ion battery technology. Run times are longer, charging times are shorter, and overall performance is equal to gas equipment with some brands.
As this technology continues to evolve, it is lending itself to a wider array of landscaping applications. Just a few years ago, nobody would have thought a professional landscaper could mow for hours with a battery-powered zero-turn mower. Today they can. Just imagine what could be possible tomorrow.
Other landscape suppliers have developed solutions to help make battery power even more practical. The Solar Lawn Truck, for example, gives landscape professionals the ability to leverage solar energy to charge batteries right on the truck, right in the field. This helps bring operating costs down even further, making battery power even more appealing.
Speaking of the Solar Lawn Truck, the solar generators themselves continue to evolve and improve. They are also becoming more affordable. The more powerful the solar generator is on your truck, the more cost effective the battery charging becomes. With a properly sized solar generator, it is possible to carry much fewer backup batteries into the field, which reduces cost and simplifies daily operations.
Are you thinking that battery power might be right for you?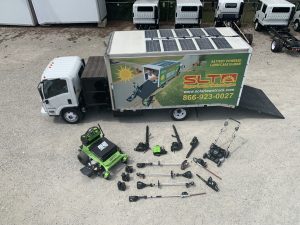 Rather than go out and spend a lot of money buying battery-powered equipment, you might consider the two-week test drive option. A growing number of lawn and landscape companies are testing a full lineup of battery-powered equipment PLUS on-the-go-charging with the Solar Lawn Truck.
This option can help you get comfortable with the switch to battery-powered equipment prior to making a purchase. Learn about a two-week test drive: GET STARTED
ABOUT THE AUTHOR: Gregg Wartgow has been covering the lawn care and landscaping industries since 1997. As the former editor of Green Industry Pros, he has developed a deep respect for landscape contractors and equipment dealers, as well as entrepreneurialism in general.