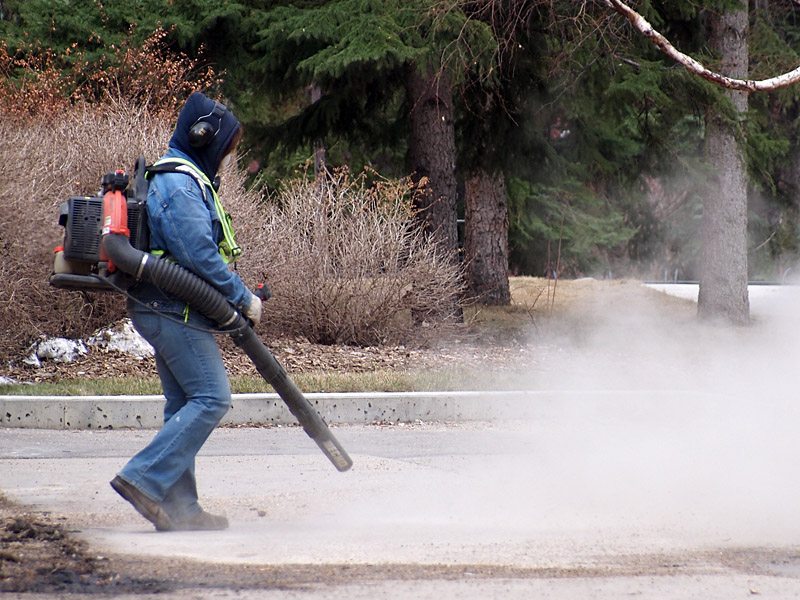 When thousands of fans head home after a sporting event or concert, they typically leave behind thousands of bags worth of trash. Although low in cost and easy to use, traditional stadium cleanup tools such as brooms and extended-reach grabbers aren't the most efficient.
To minimize the back-breaking time spent getting a stadium cleaned up for its next event, many crews are turning to leaf blowers. Blowers effortlessly move the mountains of trash into centralized piles, allowing it to be swept up more efficiently. If capable of producing adequate blowing force, a leaf blower is also effective at dislodging items that are stuck to the ground, such as wrappers, napkins and peanut shells.
As productive as leaf blowers are, there are some drawbacks when using traditional gas-powered models. Stadium cleanup crews can benefit from equipment that eliminates these drawbacks, while still providing the blowing force and overall productivity they need.
Battery-powered blowers are ideal for stadiums
Battery-powered debris blowers offer the following advantages over gas-powered blowers:
No emissions and smelly engine fumes
Less noise
No need to carry gas cans around the stadium to refuel
No need to worry about fuel spills
Less employee downtime spent getting equipment started
The housekeeping crew at Mercedes-Benz Stadium in Atlanta has made the switch to battery-powered blowers from Greenworks Commercial. The crew had been spending roughly $1,000 per year on fuel for a single blower. Now relying on battery power, the annual cost for energy is around $70 per blower.
The GBB 600 and GBB 700 are also helping the housekeeping crew get work done more efficiently. In total, the crew is saving around $12,000 per event.
Shop Greenworks GBB 600 Backpack Blower
Shop Greenworks GBB 700 Backpack Blower
Battery-powered blowers cost less
With a battery-powered blower, users don't have to worry about the added costs of gasoline, oil, filters, spark plugs, pull cords, carburetor maintenance and engine repairs. With a battery-powered blower, a user simply needs to purchase the blower, a couple of batteries and a charger. And as the crew at Mercedes-Benz Stadium has found out, the cost of electricity to recharge batteries is insignificant.
Case study data shows that a Greenworks Commercial battery-powered debris blower costs roughly 71 cents per hour to operate. That cost includes an 82V 2.5Ah battery estimated to last roughly 500 charging cycles, a Rapid Charger, and the cost of electricity to recharge the battery. A comparably sized, gas-powered blower costs roughly $3.60 per hour to operate. That cost includes gasoline and two-cycle oil at a consumption rate of 1/4-gallon per hour. This $2.89-per-hour difference will result in $1,445 in cost savings over 500 hours of use when using a Greenworks Commercial battery-powered blower.
Greenworks Commercial battery-powered blowers also cost less to purchase when compared to comparably sized, gas-powered blowers from leading manufacturers.
The power and reliability crews require
Professional-duty debris blowers, as offered by Greenworks Commercial, meet the needs of stadium cleanup crews. For example, the Greenworks GBB 600 is an 82V backpack blower that produces 600 cfm and 150 mph. The Greenworks GBB 700 produces 690 cfm and 165 mph.
Greenworks Commercial backpack blowers are powered by the latest lithium-ion battery technology, providing roughly 30 minutes of runtime per charge. When paired with a high-quality battery charger from Greenworks, these batteries provide the reliability stadium cleanup crews need to work efficiently all day long.
The Greenworks GBB 700 is a dual-port blower for extended runtime. Two 5Ah batteries are on the blower at once. When one battery becomes depleted, the blower instinctively switches over to the other battery. This essentially doubles the runtime to roughly 1 hour. A backpack battery providing all-day runtime is also available.
Both Greenworks Commercial battery-powered debris blowers also feature:
Ergonomic design with added padding for user comfort
Brushless motor that delivers more torque and longer life
Variable-speed trigger and cruise control for easier operation
LED battery-life indicator for operator peace of mind
Shop Greenworks GBB 600 Backpack Blower
Shop Greenworks GBB 700 Backpack Blower