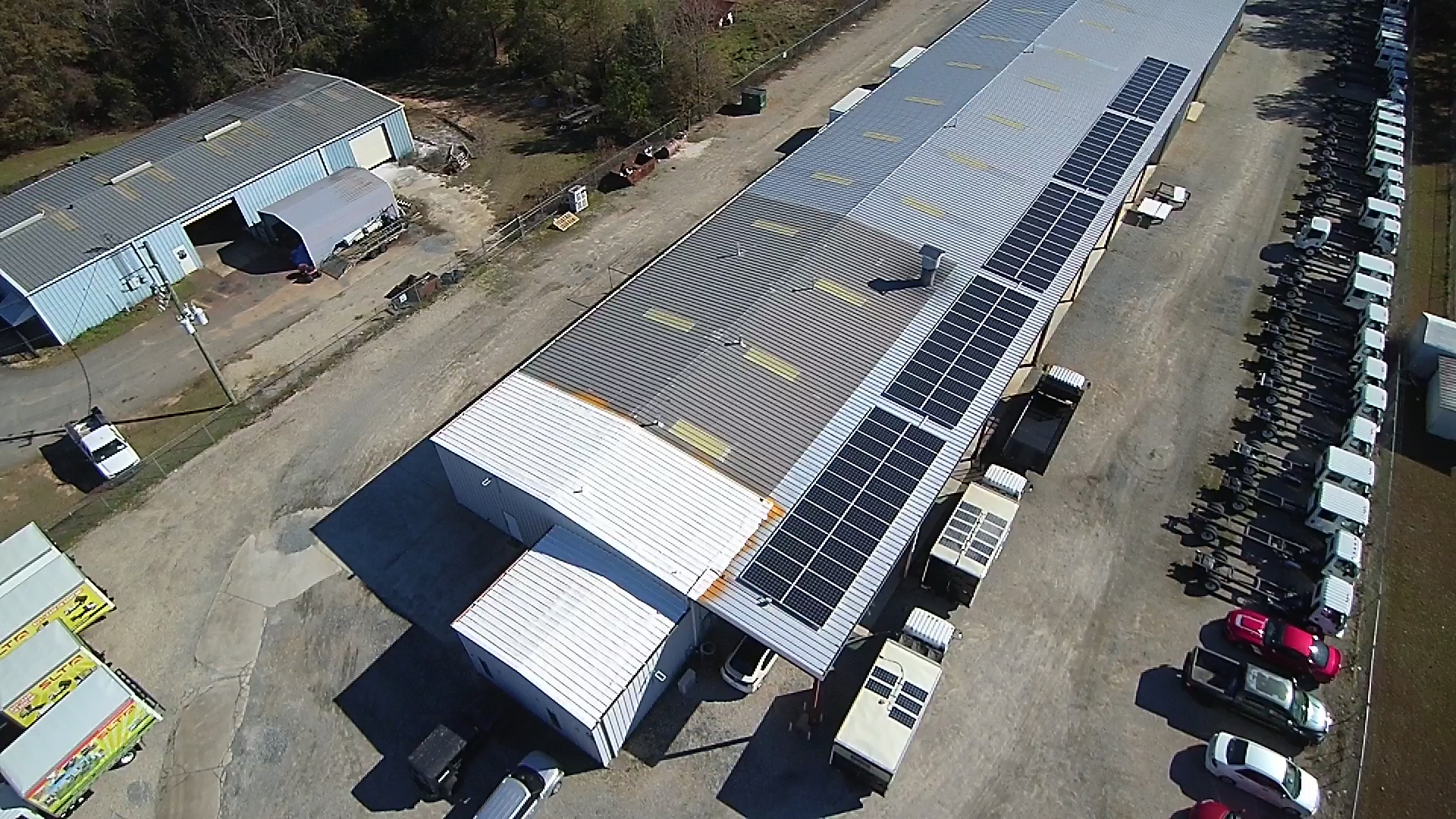 Middle Georgia Program Lowers Costs with Solar Energy
Macon, GA – Highlighting 2019, long-time Fort Valley business Super Lawn Trucks (SLT) became the first business to install a solar energy system through the Solarize Middle Georgia community bulk-purchasing program. Solar Installers with Creative Solar USA say the 120 solar panels installed on the roof of SLT's manufacturing facility is expected to save the company an estimated $7,500 off their power bills each year.
The Solarize Middle Georgia program is designed to reduce the cost of installing solar energy for homes and businesses throughout Middle Georgia and has had over 285 individuals sign-up to receive free solar assessments. Nearly 1,000 solar panels are already scheduled to be installed on rooftops across the region through the program. Middle Georgia businesses have until the end of October to get their free assessments and decide to go solar through the program.
SLT owner Tony Bass says "Solar Energy can play an important role in growing profits for any business. Our solar panels are going to pay for themselves in about four years and will produce free power for us for decades to come." Super Lawn Trucks specializes in manufacturing unique work trucks for the landscaping industry, and last-year released a line of trucks which include solar panels on the roof to help landscaping companies charge batteries that power their electric lawn equipment.
Russell Seifert of Creative Solar USA, the vendor for the Solarize Middle Georgia program, says "Businesses and homeowners around Georgia are finding that owning your energy makes more dollars and cents than renting it from utility companies. Utility bills are expected to go up in Georgia and solar helps lock-in low rates now". In addition to saving money on utility bills by creating their own power, Super Lawn Trucks will also benefit from a 30% federal tax-credit that is currently available to all homeowners and businesses now but is set to begin expiring by the end of 2019.
Peach County Commissioner Wade Yoder provides, "As a member of the Middle Georgia Clean Air Coalition, Peach County has been helping get the word out about Solarize Middle Georgia, so the first business installed being at Super Lawn Trucks here in Fort Valley is really exciting! With the long hot sunny days we get in our area, the return on investment for solar energy is a really good one. The combination of tax credits and group purchasing program makes this opportunity to go solar worth checking out!"
Photo and Video Content Available Upon Request
#       #       #
Solarize Middle Georgia is a six-month, community bulk-purchasing program designed to educate the public about the benefits of solar energy and battery storage along with reducing costs.  This includes an opportunity for a free, no-obligation, solar assessment on homes, businesses, and nonprofits. Solarize Middle Georgia community partners include the Middle Georgia Clean Air Coalition (MGCAC), Jones County, Georgia, Environment Georgia, Georgia Interfaith Power and Light, U.S. Green Building Council and Solar Crowdsource. For full details on Solarize Middle Georgia and how you can get involved visit www.solarizemidga.com.
Super Lawn Trucks manufactures commercial work truck bodies designed for the professional landscape contractor. Founded in 1998, Super Lawn Trucks patented designs for loading ramps and enclosed truck bodies help contractors eliminate towing cumbersome trailers making roads safer and contractors more productive. The latest truck body designs incorporate solar charging systems that charge batteries for quiet, zero-emissions lawn equipment including mowers, trimmers, blowers and more. Super Lawn Trucks is committed to provide leadership in lowering the carbon footprint through reducing the use of gasoline while lowering operating costs inside the lawn and landscape industry. Learn more at www.solarlawntruck.com
Creative Solar USA is a Georgia-based, turn-key installer of innovative solar panel systems, dedicated to alternative energy solutions for your home or business. Founded in 2008, we provide roof-mounted, ground-mounted, or canopy-mounted solar energy solutions and believe there are limitless "creative" solar PV installation configuration possibilities. We work with our clients before, during and after the install to ensure the best possible solution, blending customer demand, system capabilities, and the expertise of our team. To find out more information about Creative Solar USA and how you can set up your free consultation visit www.creativesolarusa.com.