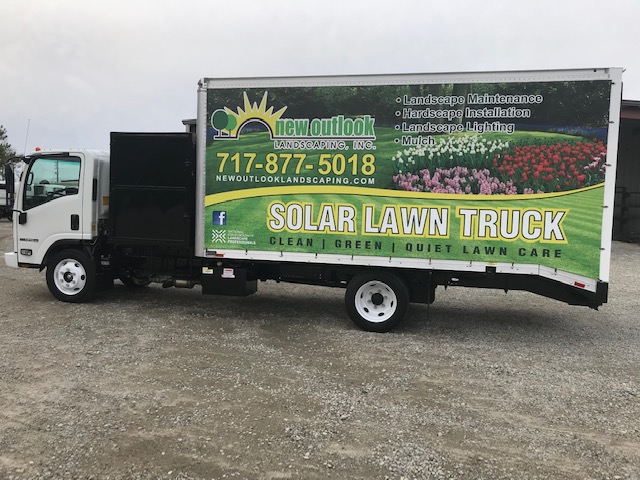 New Outlook Landscaping is leveraging solar energy and battery-powered equipment to reduce emissions and noise
With spring right around the corner, the sounds and smells of lawn mowers, trimmers and blowers will soon be filling the air. Thanks to a recent switch to green energy, a lot less of those sounds and smells will be coming from one local landscaping company.
New Outlook Landscaping in Harrisburg, Penn., is equipping one of its crews with battery-powered equipment this season. Battery lawn equipment has been around for years, but has generally failed to live up to the high performance standards of professional landscapers. Luke Hanmer, owner of New Outlook Landscaping, is confident in his arsenal of Greenworks-branded, commercial-grade equipment. Hanmer says his crew will be able to provide the same professional-level service it always has, all while producing considerably less noise and emissions.
Some landscape companies use a narrow assortment of battery hand-held equipment, such as trimmers and blowers, but continue to operate gas-powered riding mowers. Not New Outlook Landscaping. Hanmer recently sold his gas-powered stand-on riding mower. His crew will be using a battery-powered Greenworks model this season. Couple that with the other battery equipment the company operates—including trimmers, edgers, chainsaws and blowers—and the company's landscape maintenance services are now 100 percent emission-free.
"If we are going to promote the fact that we provide 'clean and green landscape maintenance services,' I want to make sure we can go all in and be 100 percent battery-powered and emission-free," Hanmer says.
The Greenworks equipment is powered by the latest lithium-ion battery technology, providing extended run times and faster recharging times. The equipment itself is manufactured with high-quality, commercial-grade components to withstand the rigors of daily commercial use.
The quality of the Greenworks equipment is a big reason why Hanmer became comfortable with making the switch to battery. The other reason is the Solar Lawn Truck, which gives Hanmer the ability to efficiently leverage another green energy source.
"When Super Lawn Technologies came out with the Solar Lawn Truck last year, everything fit together in my mind," Hanmer says. "Generally speaking with battery equipment, you have to remember to plug all of your batteries in every night to make sure they're ready to go the next day. With the Solar Lawn Truck, you can just plug the truck in at night and all your batteries charge on their charging stations right on the truck."
More importantly, the Solar Lawn Truck has solar panels affixed to the top of the truck. Those solar panels harness the sun's rays to help keep batteries charged during the day while crews are out working. This allows companies like New Outlook Landscaping to deliver the same level of service it previously did using gas-powered equipment. The difference is that the equipment produces roughly 50 percent less noise and absolutely no emissions.
New Outlook Landscaping services a long list of high-end residential accounts. Hanmer is confident that lower-noise, emission-free equipment will be of great value. "We have a lot of clients with stay-at-home spouses, along with professionals who work from home, who will appreciate the fact that we're making about half the noise we were before," Hanmer says.
Founded in 2015, New Outlook Landscaping is celebrating its fifth year in business this year. The company continues to provide premium landscaping services to high-end residential clientele throughout the Harrisburg area. For more information, visit newoutlooklandscaping.com.