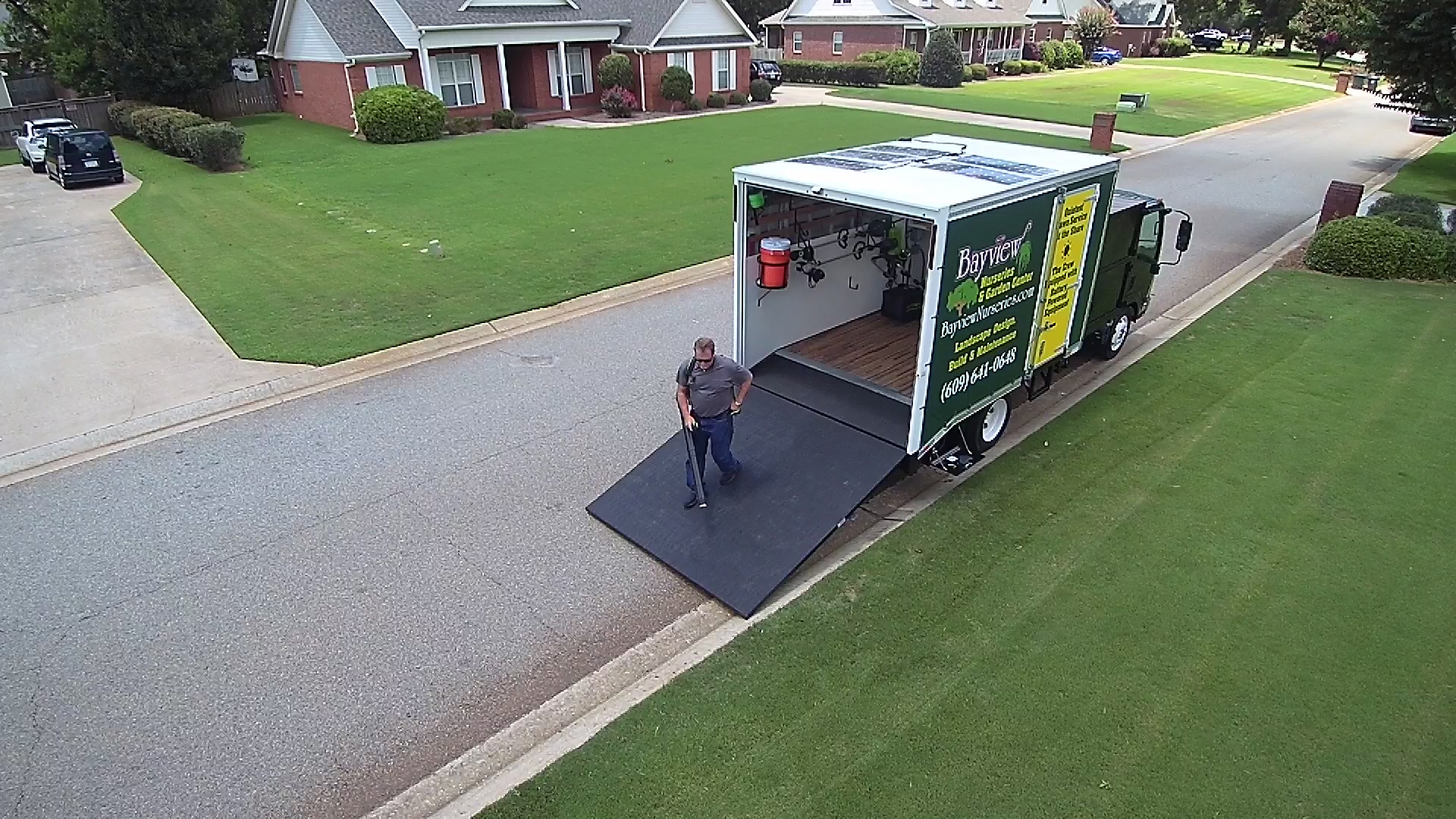 Bayview Garden Nurseries is leveraging solar energy and battery-powered equipment to reduce emissions and noise
With spring right around the corner, the sounds and smells of lawn mowers, trimmers and blowers will soon be filling the air. Thanks to a recent switch to green energy, fewer of those unpleasant sounds and smells will be coming from one local landscaping company.
Bayview Garden Nurseries in Northfield, N.J., is equipping one of its crews with battery-powered equipment this season. This technology has been around for years, but has generally failed to live up to the high performance standards of professional landscapers. Bruce Cummings, co-owner of Bayview Garden Nurseries, is confident in his arsenal of Greenworks-branded, commercial-grade equipment. Cummings says his crew will be able to provide the same professional-level service it always has, while producing considerably less noise and emissions.
"We've been thinking about switching from gas-powered equipment to battery for a while now," Cummings says. "We're in a good market for battery-powered equipment. We service a lot of residential properties that are smaller and closer together. Our crew typically services 25 to 30 properties in a single day. Battery equipment is lighter, easier to start, and generally easier to operate. It helps our crew be more productive."
The more productive the Bayview crew can be, the better service it can provide. Cummings says another benefit for customers is the dramatic reduction in noise since battery equipment is much quieter. And since there is no gas involved, there are no emissions. "Plus, my employees really like it because they don't smell like gas at the end of the day," Cummings adds.
Cummings' battery-powered Greenworks equipment includes a push mower, string trimmers, hedge trimmers, edgers, pole pruners, chainsaws and debris blowers. The equipment is powered by the latest lithium-ion battery technology, providing extended run times and faster recharging times. The equipment itself is manufactured with high-quality, commercial-grade components to withstand the rigors of daily commercial use.
The quality of the Greenworks equipment is a big reason why Cummings is comfortable with making the switch to battery. The other reason is the Solar Lawn Truck, which gives Cummings the ability to charge batteries right on the truck while in the field. Solar panels are affixed to the top of the truck, harnessing the sun's rays to provide the necessary energy to recharge batteries. This helps ensure that Cummings' crew isn't caught on a job without the necessary battery power to efficiently complete its work.
"One of the biggest challenges in making the switch to battery equipment has to do with battery life," Cummings says. "We keep two or three sets of batteries on the Solar Lawn Truck. That way we can recharge some batteries while others are powering equipment. The way we have the truck set up, we can charge up to six batteries at once. It has been working very well for us so far." Bayview Garden Nurseries began testing the Solar Lawn Truck and Greenworks battery equipment last year.
Bayview Garden Nurseries was founded in 1952 by Harry and Betty Cummings. Today the company is in the hands of the second generation. Bruce serves as company president and CEO, brother Bob is vice president in charge of landscaping operations, and sister Bonnie is vice president in charge of marketing as well as the company's garden center and florist business. Visit bayviewnurseries.com for more information.