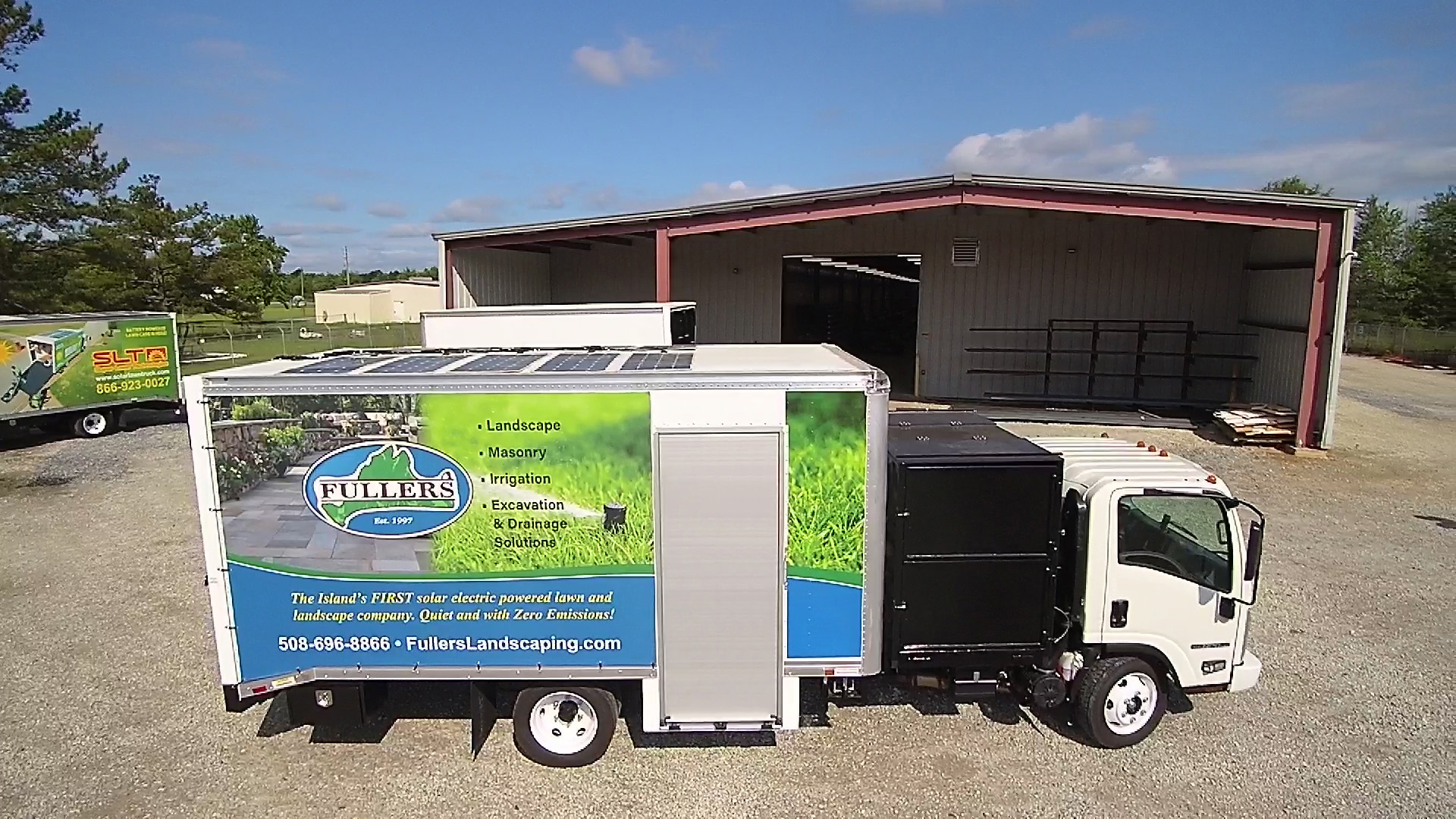 Fullers Landscaping is leveraging solar energy and battery-powered equipment to reduce emissions and noise on Martha's Vineyard
With spring right around the corner, the sounds and smells of lawn mowers, trimmers and blowers will soon be filling the air. Thanks to a recent switch to green energy, fewer of those unpleasant sounds and smells will be coming from one local landscaping company.
Fullers Landscaping is equipping its crews with battery-powered equipment this season. This technology has been around for years, but until now has generally failed to live up to the high performance standards of professional landscapers. Jesse Fuller, owner of Fullers Landscaping, is confident in his new arsenal of commercial-grade equipment. Fuller says his crew will be able to provide the same professional-level service it always has, while producing considerably less noise and emissions.
"I've been watching battery technology evolve over the past few years," Fuller says. "It seems to be the direction the landscaping industry is starting to go. I like to stay at the forefront of innovation, always exploring new and better products and methods. Battery equipment and solar recharging are going to help us stay ahead of the curve, making a big difference in both our company and community."
Fuller says he services a very tight-knit, environmentally conscious community on Martha's Vineyard. Having served that community for the past 22 years, he feels an obligation to operate in a more environmentally fashion.
"Our new battery equipment produces roughly half the sound of traditional gas-powered equipment and with zero emissions," Fuller says. "Those are big benefits. This is a progressive community that feels strongly about its environmental impact. We feel exactly the same way."
Fuller's battery-powered equipment includes push mowers, string trimmers, hedge trimmers, edgers, pole pruners, chainsaws and debris blowers. The equipment is powered by the latest lithium-ion battery technology, providing extended run times and faster recharging times. The equipment itself is manufactured with high-quality, commercial-grade components to withstand the rigors of daily commercial use.
Fuller has also added a battery-powered zero-turn riding mower to his fleet. The mower comes equipped with a canopy fitted with solar panels that allow the mower batteries to be recharged by sun rays while the mower is in operation.
The solar-recharging component is the key to making battery lawn equipment work, Fuller points out. The game-changer is his new Solar Lawn Truck, which gives Fuller the ability to charge equipment batteries right on the truck while in the field. Solar panels are affixed to the top of the truck, harnessing the sun's rays to provide the necessary recharging energy. This helps ensure that Fuller's crew isn't caught on a job without the necessary battery power to efficiently complete its work. One set of batteries can be recharging on the truck while another set is powering equipment.
Founded in 1997 and with more than 75 years of collective experience, the Fullers Landscaping team provides custom landscape design, installation and maintenance services.
"Our ultimate goal is to completely switch to battery and solar power," Fuller says. "It's going to be one step at a time, but the Solar Lawn Truck makes it possible. We need a reliable way to charge batteries in the field without having to rely on power outlets on the properties we service. We want to be greener, but we need to be self-sufficient. Now we can be."
For more information on Fullers Landscaping, visit fullerslandscaping.com.