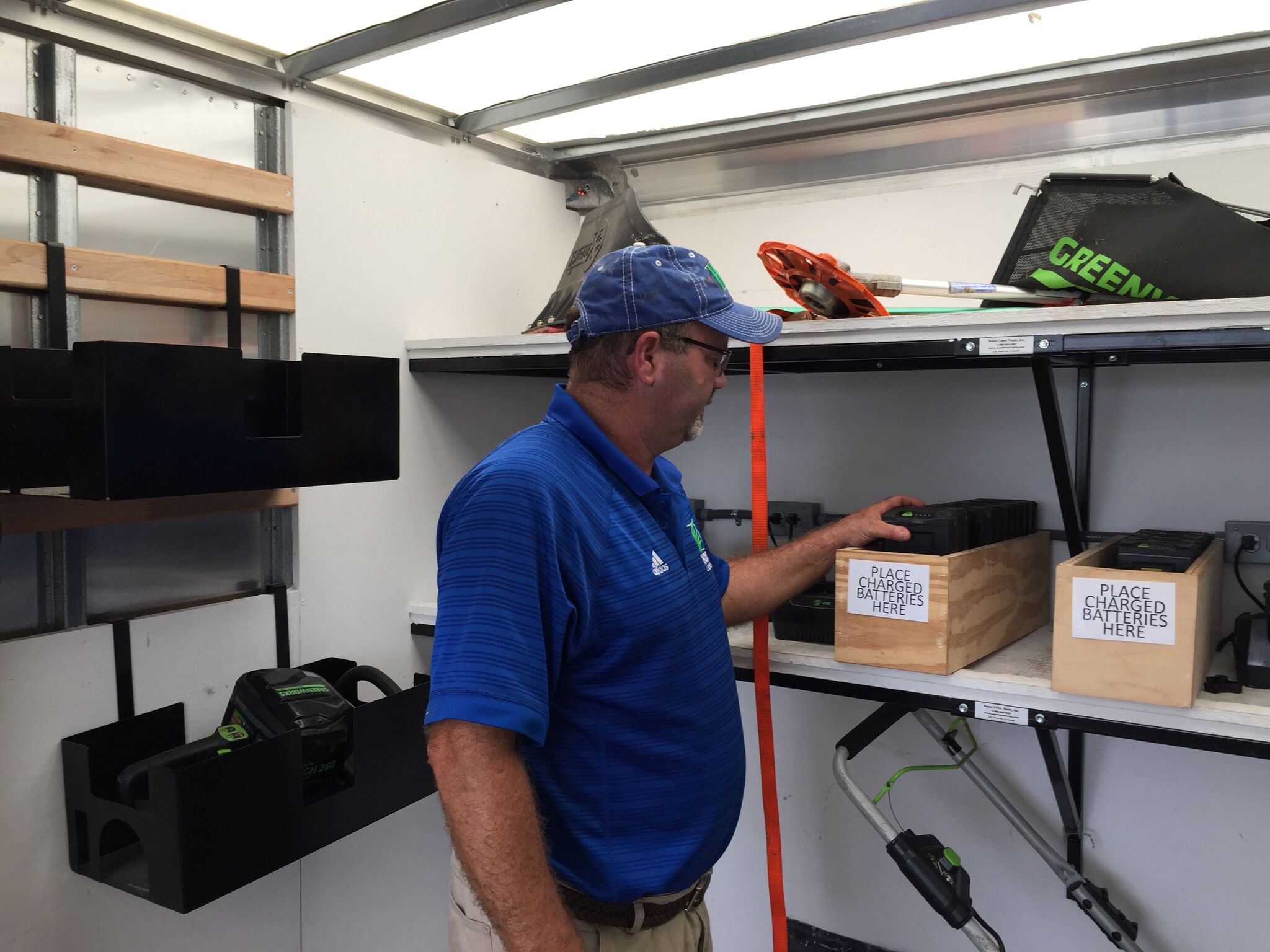 Hord Landscaping & Lawn Care is leveraging solar energy and battery-powered equipment to reduce emissions and noise
With spring right around the corner, the sounds and smells of lawn mowers, trimmers and blowers will soon be filling the air. Thanks to a recent switch to green energy, fewer of those unpleasant sounds and smells will be coming from one local landscaping company.
Hord Landscaping & Lawn Care in Campbellsville, Ky., is equipping one of its crews with battery-powered equipment this season. This technology has been around for years, but has generally failed to live up to the high performance standards of professional landscapers. Scott Hord, owner of Hord Landscaping & Lawn Care, is confident in his arsenal of Greenworks-branded, commercial-grade equipment. Hord says his crew will be able to provide the same professional-level service it always has, while producing considerably less noise and emissions.
"Everybody wants to go green these days," Hord says. "We're reducing our use of fossil fuel as well as our carbon emissions. We're reducing the amount of noise we create on jobsites. That's a good thing. And after using this equipment for a year now, I have yet to hear an employee tell me that the equipment or charging station didn't work. I'm excited about the future."
Noise is a really big issue for Hord and many of his commercial clients. "We service a lot of properties that have noise restrictions," Hord says. "During the early morning hours, as well as when tours were going on, we often had to shut our gas equipment completely off. Now with the Greenworks battery equipment, we can keep right on working. We've been really impressed and our customers really appreciate it."
Hord's battery-powered Greenworks equipment includes string trimmers, hedge trimmers, edgers, pole pruners, chainsaws and debris blowers. The equipment is powered by the latest lithium-ion battery technology, providing extended run times and faster recharging times. The equipment itself is manufactured with high-quality, commercial-grade components to withstand the rigors of daily commercial use.
The quality of the Greenworks equipment is a big reason why Hord is comfortable with making the switch to battery. The other reason is the Solar Lawn Truck, which gives Hord the ability to charge batteries right on the truck while in the field. Solar panels are affixed to the top of the truck, harnessing the sun's rays to provide the necessary energy to recharge batteries. This helps ensure that Hord's crew isn't caught on a job without the necessary battery power to efficiently complete its work.
"It is working out very well for us," Hord says. "We're in a rural area. We have quite a few larger properties. Some of our properties are also spread out quite a bit so we have some drive time. The Solar Lawn Truck is able to recharge batteries fast enough that we're able to simply swap them out from property to property."
Scott Hord officially started Hord Landscaping & Lawn Care in 1994 after graduating from college with a degree in horticulture. With roughly 23 employees, the company offers a variety of services including residential and commercial maintenance, lawn care, lighting, hardscaping, irrigation, and athletic field installation and maintenance. The company also operates a garden center. Call (270) 789-4355 for more information.