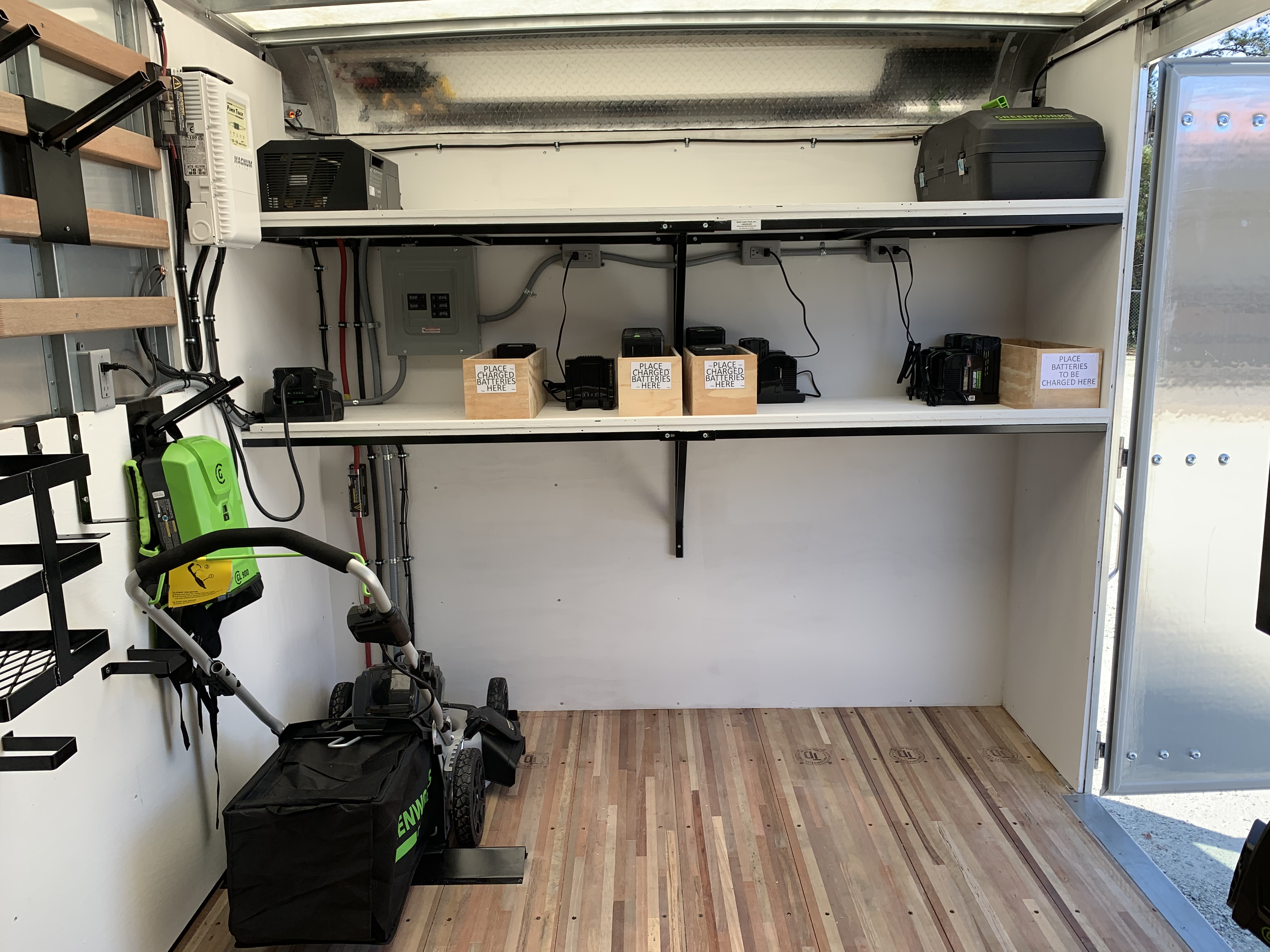 CM's A Cut Above is leveraging solar energy and battery-powered equipment to reduce emissions and noise
With spring right around the corner, the sounds and smells of lawn mowers, trimmers and blowers will soon be filling the air. Thanks to a recent shift toward cleaner energy, fewer of those unpleasant sounds and smells will be coming from one local landscaping company.
CM's A Cut Above in Omaha, Neb., is equipping one of its crews with battery-powered equipment this season. This technology has been around for years, but has generally failed to live up to the high performance standards of professional landscapers. Chuck Monico, owner of CM's, is confident in his arsenal of commercial-grade Greenworks equipment. Monico says his crew will be able to provide the same professional-level service it always has, while producing considerably less noise and emissions.
"As landscaping professionals, we are trying to care for and beautify the environment," Monico says. "We're somewhat working against ourselves if we continue to rely on combustion engines. We're not talking about completely eliminating gas engines from our operation. But if we can reduce them, it will make a big difference one step at a time. That's what we are starting to do. Reducing emissions is something we owe to our employees, our clients and the environment."
Reduced noise is the other big benefit. "Traditional gas-powered riding mowers, string trimmers and blowers have generated decibel levels on par with a concert," Monico says. "Battery equipment is much quieter. That means less strain on our employees' hearing. Employees will also be able to communicate better on jobsites. That's a big benefit from a safety standpoint."
Reduced noise is also appealing to Monico's customers. "We are actually hopeful that we'll be able to start working on certain properties much earlier in the day as a result of the reduced noise," he says.
Another benefit is that battery-powered equipment costs less to operate than traditional gas-powered equipment. Monico says the elimination of engines and carburetors, gas, oil and filters should make a big impact on his company's financial performance, enabling him to invest more in areas that matter most to his employees, clients and the community at large.
Monico's battery-powered Greenworks Commercial equipment includes a zero-turn riding mower, a zero-turn stand-on mower, string trimmers, hedge trimmers, edgers, pole pruners, chain saws and debris blowers. The equipment is powered by the latest lithium-ion battery technology, providing extended run times and faster recharging times. The equipment itself is manufactured with high-quality, commercial-grade components to withstand the rigors of daily commercial use.
The quality of the Greenworks Commercial equipment is a big reason why Monico is comfortable with making the switch to battery. The other reason is the Solar Lawn Truck, which gives Monico the ability to charge batteries right on the truck while in the field. Solar panels are affixed to the top of the truck, harnessing the sun's rays to provide the necessary energy to recharge batteries.
"The Solar Lawn Truck helps extend the operating window of the Greenworks battery equipment," Monico points out. "Then you don't have to worry about how long you'll be able to mow because the battery life is limited. If you can recharge during the day, that problem goes away. We are really excited about that."
Through years of industry experience, Monico has learned the importance of reliable equipment and continual improvement. The Greenworks Commercial line of battery-powered equipment is a perfect combination of those two lessons as it provides professional-level power and durability, and a more responsible way forward in the green industry. The CM's team is excited to be the first is the area to offer cleaner lawn solutions to its clients, and is equally excited to be the exclusive Greenworks Commercial dealer in the region.
CM's A Cut Above was founded in 1996. As a design-build-maintenance provider, the company seeks to oversee all aspects of its clients' outdoor spaces. Roughly 97 percent of all work—including lawn care, tree care and irrigation—is provided by trained and certified, in-house employees. The company employs roughly 55 landscaping professionals during peak season. For more information, visit cmscustomlawn.com.