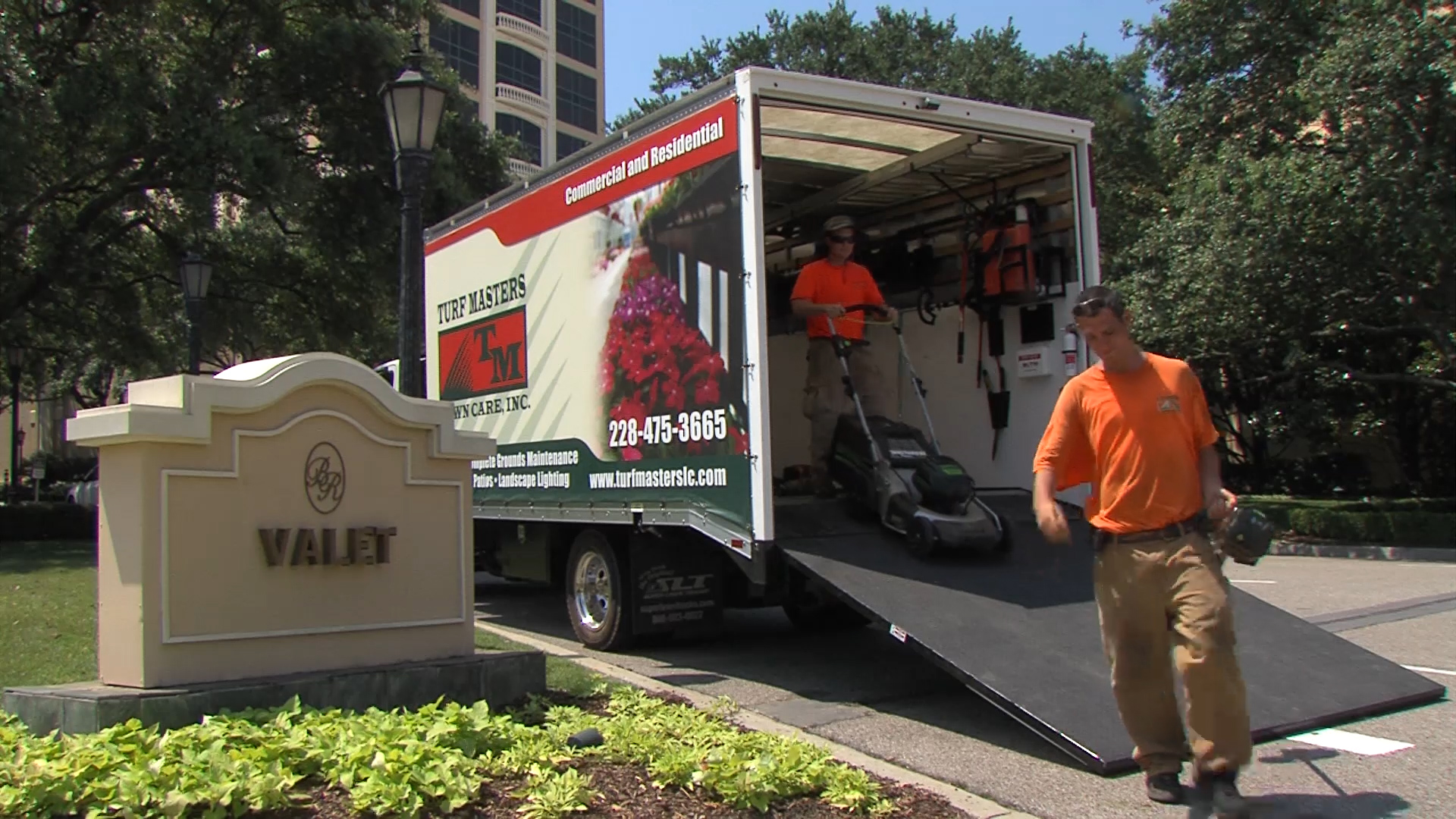 Turf Masters Lawn Care is leveraging solar energy and battery-powered equipment to reduce emissions and noise
With spring right around the corner, the sounds and smells of lawn mowers, trimmers and blowers will soon be filling the air. Thanks to a recent switch to green energy, a lot less of those sounds and smells will be coming from one local landscaping company.
Turf Masters Lawn Care in Pascagoula, Miss., is equipping one of its crews with battery-powered equipment this season. Battery lawn equipment has been around for years, but has generally failed to live up to the high performance standards of professional landscapers. Steve Jordan, owner of Turf Masters Lawn Care, is confident in his arsenal of Greenworks-branded, commercial-grade equipment. Jordan says his crew will be able to provide the same professional-level service it always has, all while producing considerably less noise and emissions.
Another reason Jordan has begun making the switch to battery is convenience. "When you pull the trigger, we have confidence that the equipment will run perfectly," Jordan says. "That isn't always the case with gas-powered equipment." Bad fuel, fouled spark plugs and faulty carburetors can often lead to performance issues with gas equipment—especially in today's age of ethanol-blended fuel.
Yet another reason for switching to battery equipment relates to Jordan's operating costs. It's cheaper to operate battery-powered equipment, and that benefits both Turf Masters and its customers.
"Wages are going up in today's economy, which is a good thing," Jordan says. "The Greenworks battery equipment allows us to lower our operating cost, without sacrificing productivity, which helps us keep our pricing stable for our clients."
Jordan says there hasn't been a great deal of demand for green landscaping services on the Gulf Coast. That said, interest is growing. "Some of our clients are pushing for landscaping providers like us to reduce our carbon footprint," Jordan says. "With the addition of Greenworks battery equipment, which now includes both a zero-turn riding mower and stand-on riding mower, we can service commercial properties while producing zero emissions."
Jordan's Greenworks equipment also includes trimmers, edgers, chainsaws and blowers. Each is powered by the latest lithium-ion battery technology, providing extended run times and faster recharging times. The equipment itself is manufactured with high-quality, commercial-grade components to withstand the rigors of daily commercial use.
One of Turf Master's clients is a popular resort. "The green initiative was of interest to them years ago," Jordan says. "The lower noise of the battery equipment is a huge benefit in a setting like a resort. Our presence is a lot less intrusive, which makes for a more enjoyable stay for the resort's patrons."
Jordan believes in the Greenworks equipment so much that Turf Masters Lawn Care recently become a Greenworks dealer. The company also operates a nursery and garden center, growing roughly 30,000 to 40,000 annuals every three months. "We are adding two new greenhouses as we speak, and the Greenworks equipment will be a great addition to our retail garden center operation," Jordan says.
The quality of the Greenworks equipment is a big reason why Jordan became comfortable with making the switch to battery. The other reason is the Solar Lawn Truck, which gives Jordan the ability to charge batteries right on the truck while in the field. Solar panels are affixed to the top of the truck, harnessing the sun's rays to provide the necessary energy to recharge batteries. This helps ensure that Jordan's crew isn't caught on a job without the necessary battery power to efficiently complete its work.
Founded in 2000, Turf Masters Lawn Care provides landscape maintenance and enhancement services to a variety of residential and commercial clientele. The company has grown year after year, expanding from just two part-time employees to more than 40. For more information, visit turfmasterslc.com.