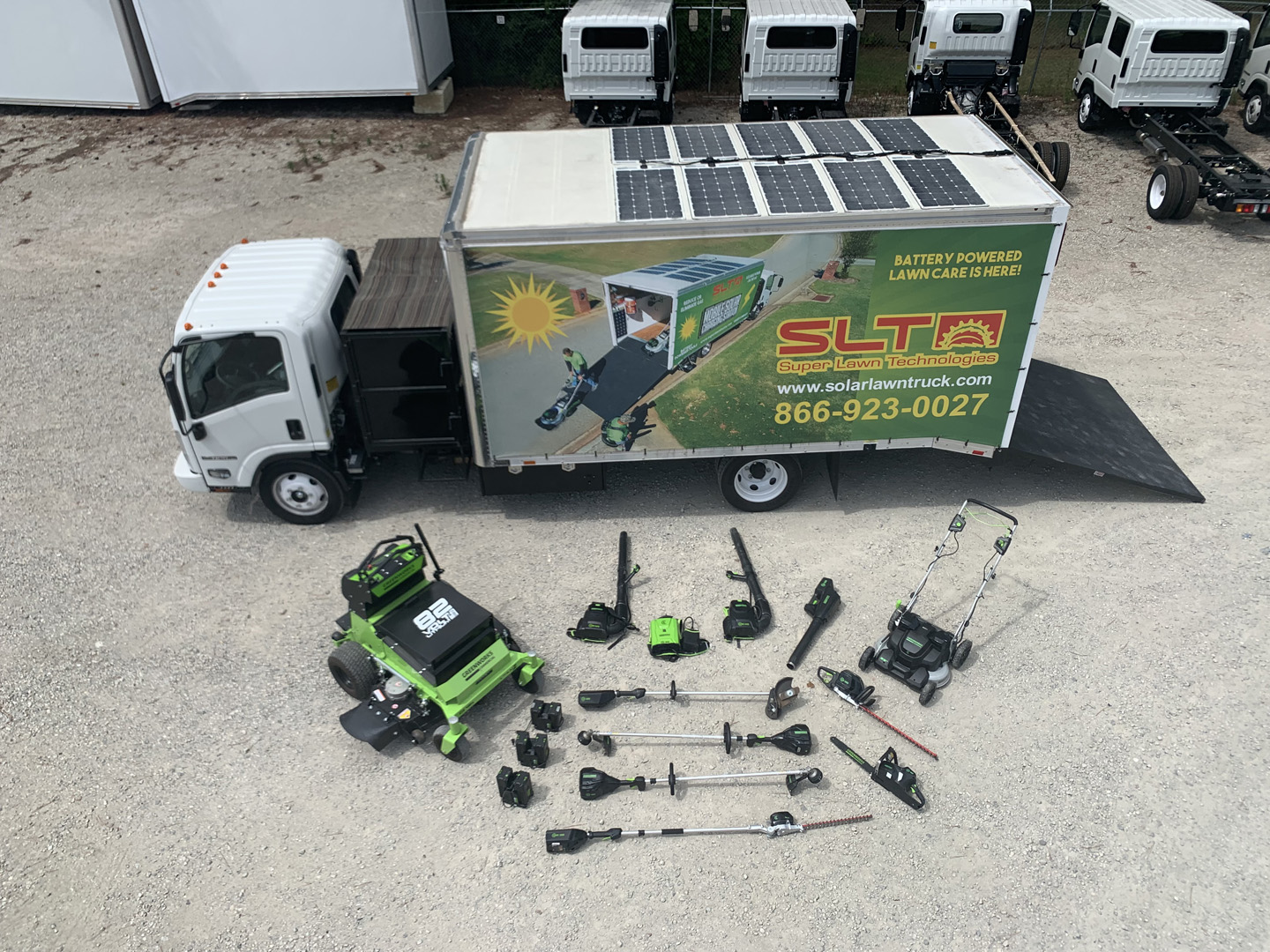 For Immediate Release
Contact:   Jennifer Bullington, Super Lawn Technologies
                (478) 822-9704           
Super Lawn Technologies Named Greenworks Dealer
Georgia-based manufacturer known for its productivity-enhancing landscape trucks now selling Greenworks Commercial battery-powered lawn equipment.
Super Lawn Technologies, manufacturer of the Super Lawn Trucks line of productivity-enhancing landscape trucks, has become a dealer for Greenworks Commercial battery-powered lawn equipment. The move further solidifies the company's commitment to helping landscape contractors increase profitability through the use of revolutionary tools, technologies and processes.
"Eliminating reliance on gasoline creates a lot of opportunities for landscaping companies," says Tony Bass, founder and president of Super Lawn Technologies. "Case study data is proving that battery power will help landscape crews save time and reduce operating costs, without sacrificing performance. This equipment is proven to perform in the hands of professional users."
Greenworks Commercial equipment is available for purchase at superlawntrucks.com/greenworks-battery-tools-and-equipment. All products can be shipped nationwide via common carrier or parcel delivery. Bass says Greenworks Commercial products have a lower purchase price than comparably sized, gas-powered units. Furthermore, Greenworks Commercial battery-powered equipment is at least 40% less expensive to operate.
The relationship between Super Lawn Technologies and Greenworks Commercial actually precedes this announcement. In the summer of 2018, the two companies formed a partnership to help landscape contractors begin making the switch to battery-powered equipment. Over the past year, eight landscape companies from around the country have been beta-testing the new Solar Lawn Truck equipped with a full arsenal of Greenworks Commercial equipment.
The Solar Lawn Truck is patterned after the popular Super Lawn Truck, an enclosed truck-and-trailer with on-board fueling, tool storage and other productivity-enhancing features. The Solar Lawn Truck, however, also has solar panels affixed to the top of the trailer, enabling the truck to convert solar power into electricity. That electricity is used to recharge batteries right on the truck, right in the field.
"A landscaping professional's biggest concern about battery equipment is running out of power on the job," Bass says. "The Solar Lawn Truck addresses that concern."
Now that Super Lawn Technologies has become a Greenworks dealer, the company can also offer Greenworks Commercial equipment as standalone products. Bass says this allows Super Lawn Technologies to help more landscape contractors begin making the shift toward battery-powered equipment.
"For some landscape contractors, investing in a Solar Lawn Truck completely outfitted with battery equipment might be too big of a first step," Bass says. "Now we can help contractors take baby steps, one tool at a time."
The Greenworks Commercial lineup includes:
600- and 690-cfm Backpack Blowers
26-inch Hedgetrimmer
20-inch Pole Hedgetrimmer
18-inch Chainsaw
10-inch Pole Pruner with 8- to 12-foot reach
8-inch Stick Edger
16-inch String Trimmer
21- and 25-inch Push Mowers
52- and 60-inch Zero-Turn Mowers
48- and 52-inch Stand-On Mowers
"Our beta-testers have been providing us with invaluable feedback over the past year," Bass says. "There is no doubt that the right battery-powered equipment can be a game-changer in the landscaping industry. We are excited to become a Greenworks Commercial dealer to continue helping the industry make this important shift toward battery power."
-END-